Mold Bases
Product Announcement from DME Company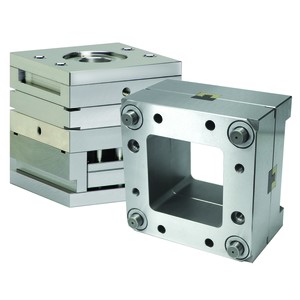 Pick a mold base. Any mold base. Nobody has more variety than DME. For standard lines to fully custom, drop-in ready bases, we make it easy to get the mold base you need.
Edge PT Pre-Pocketed Mold Bases
DME's new Edge PT Pre-Pocketed Mold Bases come with pre-machined pockets and top locks already installed. Ideal for producing molds for even the thinnest walled parts and for a variety of applications, pre-machined pockets enable a moldmaker to create separate cavity inserts and then place them into a pocket in the mold base, rather than machining directly into mold plate.
In addition, the pre-installed top locks assure better alignment of the tool to meet part specifications. Compared to only using leader pins and bushings, top locks can significantly improve part quality.
The new bases are available in five different sizes with three combinations for each size.
All new bases will include the following Edge mold base features:
A-plate, B-plate and support plates supplied with DME #3 steel
Pry slots installed on both sides of "B" plate
Lift holes installed
Return pins installed 0.125 inboard to allow for spring pockets
Leader pin vents machined in the housing under the bushing location
Guided ejection installed
Three-piece ejector housing
Center hole machining included
For more information on the Edge PT Pre-Pocketed Mold Bases, please visit:
BROCHURE: http://www.dme.net/wwwdme/PDF%20brochures/Edge%20Pre-Pocketed%20Mold%20Bases.pdf
ORDER ONLINE: https://na.dmecompany.com/Catalog/CatalogListing.aspx?CatalogId=DSO&CatalogDetailId=180
You have successfully added from to your part list.
---