Product Announcement from D-TACQ Solutions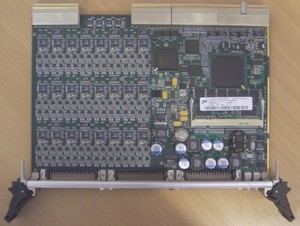 16 bit ADC per channel for true simultaneous analog input.
High throughput, available in two speed grades: 250kSPS/channel and 500kSPS/channel.
Maximum channel density - 96 channels in one slot, replaces a rack full of 16 channel data acquisition boards!
Uses latest silicon for highest performance at lowest cost per channel:
Deployed in competitive applications down to 1kHz/channel.
True differential input to each channel. Input features high common mode range and input overvoltage withstand.
Plant cable interface to front panel - 3 x SCSI 68 connectors on front panel.
D-TACQ recommends the BNCPANEL, SMAPANEL or LEMOPANEL for breakout to individual signals
Rear Transition Module RTM with three options, providing ethernet connectivity
RTM-AO16 provides 16 simultaneous analog outputs with low latency control and Arbitrary Waveform Generator applications.
External clock, trigger, internal clock. PCI eXtensions for Instrumentation (PXI) compatible clock and trigger lines. Multiple boards can be ganged together.
Up to 1GB DDR memory on board. 512MB recommended for best price.
400MHz RISC processor, runs embedded Linux. Easy software enhancement and great connectivity.
64bit/66MHz backplane PCI interface, huge buffers for streaming data.
Runs as traditional peripheral board, also capable of standalone and system slot functionality. Standalone networked mode allows very low cost deployment at point of use. System slot functionality allows the card to control a CompactPCI/PXI peripheral card, for example gigabit ethernet, serial com ports.
Very simple to deploy ethernet analog input.
Oversampling, decimating digital filter option built into Field Programmable Gate Array(FPGA). Option implements a 16 tap FIR filter, with 24 bit data output word. Typical use in oversampling application: raw a/d sampling at 500 kSPS, 8 X oversampling, 62.5kHz bandwidth, effective number of bits (ENOB) greater than 18. A longer boxcar filter is available for higher order oversampling, for example ENOB 20 at 4kHz.
Option to use the FPGA as a DSP co-processor, for example input digital filtering, threshold detection, custom lockin amplifier, input synchronized with waveform output.
Operating modes include one-shot transient recorder, pre-post transient recorder, continuous streaming via ethernet, streaming and low latency control via pci backplane
Custom operating modes implemented in firmware, usually as a kernel loadable module, loaded at run time.
You have successfully added from to your part list.
---