Hand Controllers Military & Aerospace Grade
Product Announcement from Daco Hand Controllers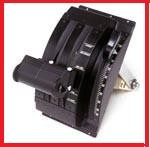 Typical applications: Command and Control, Ship, Vehicle, Plane, Submarine Controls, Simulators, Fire Control, Target Acquisition and Tracking, Remote and Robotic Controls, Off Highway Equipment and Industrial machine controls.
· Standard and custom configurations.
· We can build to suit your specific project requirements.
Daco's modular products can be configured in hundreds of different ways, some applications require a product that cannot be assembled from standard components. In such cases customers can take advantage of Daco's design service to create a custom built hand controller.
The success of this service depends upon Daco and the customer forming a close working relationship. Ideally, direct contact between the Engineering Departments of both companies is established with Daco sales staff acting as liaison where necessary.
In the initial stages of each project a design specification is created which allows prices to be agreed. Occasionally a prototype is then produced to test new concepts and establish build standards. Finally production is started and deliveries made in accordance with the required schedule.
Usually individual design services are prohibitively expensive, particularly for small quantity orders, but Daco has managed to avoid this. In the majority of cases we can use one of our modular range products as a starting point, then make extra changes to create the new custom built hand controller. This reduces development risks and minimises design time, keeping engineering charges very low. The use of a high proportion of stock components also lowers costs and gives delivery times which are often shorter than customers expect.
To learn more click on the Product Details web link on the left, or e mail us, we welcome your inquiries
---