CONTROL GRIPS FOR AIR DEFENSE SYSTEM
Product Announcement from Daco Hand Controllers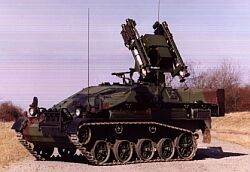 Krauss-Maffei Wegmann, one of Germany's leading military system manufacturers, has selected Daco Scientific to supply the control grips for their LeFlaSys light air defence system.
LeFlaSys was developed in response to a requirement identified by the German Armed forces. They needed a new weapon system that could be deployed shortly after airborne troops had landed, offer effective protection against air attacks over a wide area and have an unrestricted mission capability in all climatic zones of the world. A further requirement was that the system should utilise carrier and weapon systems already in service to ensure affordable development costs for the user.
The LeFlaSys solution consequently adopted a modular approach to the problem and brought together STN ATLAS' ASRAD missile system and a range of carrier vehicles such as the WIESEL, CONDOR, TM170 or WOLF . A similar modular approach was adopted by Daco who provided an enhanced version of their MG1 Modular Grip range for the man/machine interface. The grips are supplied in pairs with each housing 5 functions, one of which, in the right-hand grip, is a miniature force sensitive joystick. By using their modular range Daco were able to follow the customer's original design ethos that ensured a proven, well-focussed solution was provided at reasonable cost and with very little design risk.
You can learn more about Daco Scientific's modular controllers at these links
Or use the links on this page to visit our website or e mail with your inquiries
---