Fluid Sealing and Precision Components
Product Announcement from Daemar Inc.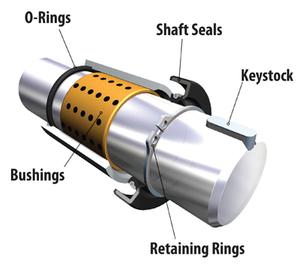 The demands of modern applications make choosing the correct fluid sealing or precision component essential. Whether it's a new design or an existing maintenance requirement, Daemar has the products that you need.
At Daemar our mission is to be industry's first choice for Fluid Sealing and Precision Component solutions. Our team is dedicated to providing our customers with exceptional service and a complete range of products that includes: O-Rings, Retaining Rings, Shaft Seals, Caplugs, Keystock, Ceramic Linear Motion Bearings, Bushings, Clipper Oil Seals, Mechanical Seals, and Shims.
Mechanical Seals? Use our Selection Guide
Need Pump Parts? See the Pump Manufacturer Cross Reference
What Seal Material should you use? Check the Fluid Compatibility
Looking for more help? Use our Application Data Sheet
Check out our website with extensive information, just click on the Product Details weblink on the right, or e mail your inquiries
---