Prolong Life of Damaged Shafts & Yokes
Product Announcement from Daemar Inc.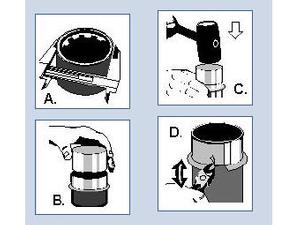 DMR Sleeves are precision stainless steel wear sleeves designed to prolong the life of damaged shafts and yokes by providing a new sealing surface that is superior to most original finishes and materials. Over time sealing lips can groove shafts due to factors such as dirt, heat, excessive water, lack of lubrication and high shaft speeds. DMR Sleeves offer a cost effective alternative to resizing, metalizing or replacing severely damaged surfaces. DMR Sleeve's low profile design means that the same size seal can be utilized and multi-lip oil seals can be accommodated.
Material and Sizes
The DMR Sleeve is made from 304 Stainless Steel. Available for shaft diameters ranging from 1 inch to 7 inches.
Scroll down here to see a step by step guide to installation
Click here for specs and sizes Imperial and Metric Shaft Repair Sleeves Data
Or Download PDF for easy reference
---