Wave Springs
Product Announcement from Daemar Inc.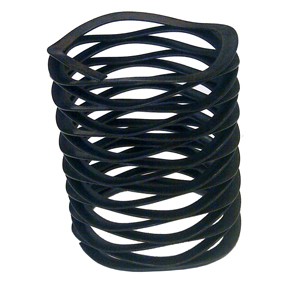 A wave spring is made from coiled flat wire with waves added to give it a spring effect. Wave springs are superior to coil springs in certain applications because they provide lower work heights with the same force. This not only provides for space savings, but also smaller assemblies that use less materials, hence lower production costs.
Our supplier coils pre-tempered flat wire made from rolled round wire as raw material. The on-edge-coiling process creates a circle with one or more turns to specifications in any diameter and any number of specific designed waves.
Wave Spring Types
Multi Turn Wave Springs – Plain ends and Shim ends.
Decreasing spring rate is proportional to the number of turns: More turns equals less force.
Used for low force applications with large deflections.
Utilizes nearly 1/2 the space as helical compression springs while producing the same force.
Flat Wire Wave Springs versus Conventional Stampings
No material waste compared to stamped parts
Rolled flat wire features edges with a radius—NO DAMAGE TO SHAFT/BORE
No stamping burrs eliminates the grinding process
No stamping through the metal grain--microstructures remain intact
Microstructure offers better strength because the line of force in circumferential direction is not disturbed; risk of fatigue cracking and inconsistent loading in a lot is minimized
Advantage of Flat Wire Wave Springs
Space saving in axial direction - 50% of the operating height could be reduced
Bending load in the waves guarantees 100% axial transmission of load
Only one spring must be handled comparing to stacked disc springs / wave washers.
Space saving in radial direction compared to disc springs
Single turn wave spring offers "cling in bore" option--spring is fixed and centered by itself
"Cling on shaft" as assembly help option
Low load tolerance at specified work heights
More accurate spring rate and loads which could be better toleranced than 50% tighter than stamped wave washers or disc springs
Unlimited range of forces could be created by using the factors wire size, wire form, no. of turns, turn configuration, no. of waves and wave form
You have successfully added from to your part list.
---