Cartridge Heater Modifications and Accessories
Product Announcement from Dalton Electric Heating Co., Inc.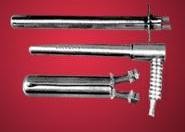 Watt-Flex cartridge heaters are built-to-order to meet your electric process heating application. A variety of heater modifications and accessories are available for:
Designing a challenging new heating application?
With over 20 years of experience in the manufacture of cartridge heaters, Dalton Electric has the engineering expertise and production capabilities to design and produce modified, special, or custom heaters for your most challenging requirements.
Abrasion Protection
Watt-Flex headers shield lead wires and insulators from abrasion damage caused by machine cycling, severe environment and rough handling.
High-quality stainless steel construction provides long-lasting protection even in the most rugged industrial environments.
Stainless Steel Braid - flexible, with tighter bend radius plus the strength of braided strands of high-quality stainless steel.
Stainless Steel BX - interlocking hose provides greater strength and abrasion protection than braid, and a slight economic advantage.
Straight and Right Angle Headers
Lead Modifications
Standard Temperature Leads - TGGT insulation (teflon tape primary, glass servings, woven glass braid, teflon coated) over stranded Grade "A" nickel wire.
(< 480o F / 250o C).
Standard Temperature Teflon Leads - Extruded PFA over stranded Grade "A" nickel wire. (< 480o F / 250o C)
High Temperature Leads - Fiberglass insulation (threaded glass servings primary, treated glass braid) over stranded Grade "A" nickel wire. (< 840o F / 450o C).
Fiberglass or Rubber Sleeving - Rubber sleeving provides excellent insulation value for low temperature process heating applications (< 450o F / 230o C). Fiberglass woven glass strands provide good insulation for use in high temperature process heating applications.
Quick Disconnect - a modular plug or terminal junction in the wire for ease of heater disconnection.
Threaded post terminals - useful when wire must be occasionally disconnected and/or replaced. Often used in conjunction with a bussbar.
Integral Ground Wire - attached to the heater, meant for termination to ground on the machine.
Extra Length Leads - available in any length. For wires longer than 10 feet (3 meters), a quick connect or male/female connector plug assembly can be used to reduce heater cost.
Stainless Steel Clip Support - displaces and reinforces the point of wire flexure away from the heater terminal connection. Useful for applications where there is repeated flexing (packaging and sealing).
Contaminant Protection
A protective contaminant barrier inserted into the terminal cavity can protect the cartridge heating element from moisture, dirt and other contaminants that can damage the heating element.
RTV Potting - RTV (Room Temperature Vulcanized) rubber provides an excellent moisture barrier for low temperature process heating applications (< 450o F / 230o C).
Ceramic Potting - provides good contaminant protection, but is not a complete moisture barrier. Ceramic material supports very high temperature process heating and is rated to 2000+ oF / 1090 oC.
Mounting Modifications
Dalton Electric heating engineers can develop mounting apparatus for any heating application. A sampling of standard accessories are listed below.
Stainless Steel Flange
Puller End Plug
Mounting Bracket
NPT Fitting
In Line Diodes
Threaded Extraction Collars
Solid Pin Connectors
Ground Wire
Stainless Steel Flange - available in sizes shown at left, the stainless steel flange acts as a mechanical stop at the edge of the heater well.
Mounting Bracket - an "L" shaped bracket welded to the sheath to act as an insertion stop or for mechanically securing the heater at the edge of the heat sink.
Puller End Plug - used for heater extraction in applications where the terminal end of the heater is not accessible. Interior thread attaches the puller plug to the heater tip.
NPT Fitting - used with Watt-Flex replaceable immersion heaters for heating liquids in vats or tanks.
High Temperature Modifications
Extra Cold Section at End
Ceramic Beads
Extra Cold Section at End - when the heater extends out of the bore (through insulation, for example) an extra cold section added to the cartridge heater ensures that the heated section is fully enclosed by the heat sink. The cold terminal end is usually produced by adding a longer terminal pin so no heat is produced. Longer cold sections are created by stretching the continuous coil resistance wire to limited heat production.
Ceramic Bead Insulation -- Placed over insulated lead wire to protect beyond temperature rating of insulation. Withstands temperatures to 2000° F / 1090 °C.
Distributed Wattage
Watt-Flex heaters can be designed with zones of varying watt density, allowing you to put a specific amount of heat exactly where you need it.
Distributed wattage is ideal for applications where higher temperatures are required at certain points to offset radiant heat loss such as at the ends of a sealing bar or at the tip of the molding probe.
About Dalton Electric Heating Company:
Since 1921, Dalton Electric has been a leader in industrial process heating.
Dalton heaters are used for industrial process heat applications in automotive, aerospace, plastics, adhesives, semiconductors, and many other industries throughout the world. Products include the Watt-Flex® split-sheath cartridge heater and immersion heater, Diff-Therm® platen heaters for vacuum diffusion pumps, and related high-temperature accessories and heater modifications.
---