Process Heating Engineering Data
Product Announcement from Dalton Electric Heating Co., Inc.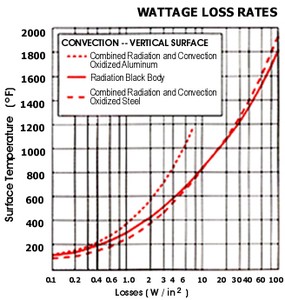 The following reference information can assist you in the selection of Watt-Flex heaters for new process heating designs. For a consultation on any heating application, call our heating engineers at 978-356-9844.
Heating Metal Parts
The required wattage for a metal heating application is equal to the sum of watts required for material heat up plus watt loss during heat-up, plus a 20% safety margin added for contingencies.
To calculate the heater capacity needed to produce a required level of heat, find the thermal values in the Physical Properties of Materials Table and plug them into the following equations:
Calculation of Required Wattage
C = (A + B)*1.2
where A = Watts for material heat-up
where B = Watts Heat Loss during heat-up
where C = Total Watts Required
Heating Liquids
Consideration should be given to the following factors when heating liquids with Watt-Flex Cartridge heaters.
Locate heater wells in an unrestricted space in the main body of the liquid.
The heated section of the well should be covered by liquids at all times.
In metal-melting applications, explosions can result unless pressure is vented during melting phase of heat-up.
Certain watt-density limits exist in immersion applications. Please consult the factory for technical assistance.
About Dalton Electric Heating Company:
Since 1921, Dalton Electric has been a leader in industrial process heating.
Dalton heaters are used for industrial process heat applications in automotive, aerospace, plastics, adhesives, semiconductors, and many other industries throughout the world. Products include the Watt-Flex® split-sheath cartridge heater and immersion heater, Diff-Therm® platen heaters for vacuum diffusion pumps, and related high-temperature accessories and heater modifications.
Please click on the links to the right for more information or request a quote today!
You have successfully added from to your part list.
---