Monochrome EHC-09 Ultrasonic Thickness Gage
Product Announcement from Danatronics Corporation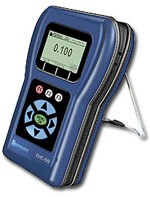 Can your ultrasonic thickness gage do this?
World's Smallest Thickness Gage with live A-Scan
100K datalogger with direct interface to Excel
Vibrate the gage based on an alarm condition
Illuminate the keypad on alarm condition
Inform the operator when to replace the transducer
Danatronics didn't Think So.
With more than 60 years of world-wide experience in ultrasonic designs, Danatronics is pleased to introduce their first line of portable, digital, hand-held ultrasonic thickness gages; The EHC-O9 and EHC-09DL. The EHC series of ultrasonic thickness gages are specifically designed to measure the remaining wall thickness of primarily steel structures.
EHC-09 Waveform ultrasonic thickness gage
Danatronics is proud to introduce the world's smallest ultrasonic thickness gage with high resolution waveform display, The EHC-09 with live Waveform (A-Scan) unique features include:
Auto Zoom tracking centers echoes in the middle of the screen independent of material thickness. The main bang and echo to echo blanking as well as manual and automatic gain adjustments are ideal for complete waveform adjustment and control. RF, Full Wave, Half Wave + and Half Wave - rectification modes. The echo to echo feature can ignore the paint or coating thickness. The Datalogger can save 50,000 thickness readings and 5,000 waveforms. B-scan for a cross sectional representation of the test piece is also available. The waveform option can even be added to their popular EHC-09 and EHC-09DL gages.
Download EHC-09 series Brochure
Please click on the links for more information or request a quote today!
---