Industrial Solenoid Valves - Order Online Today!
Product Announcement from Danfoss, Inc. - Industrial Automation Division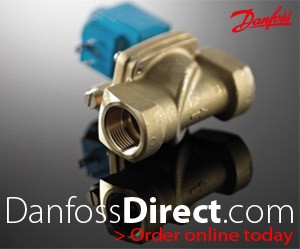 Got a specific application? - With Danfoss' wide range of solenoid valves and fluid controls you'll get a specific solution, as quick and inexpensive as possible. For makers of everything from steam boilers to dry-cleaning machines, Danfoss valves are an easy, economical way to control and regulate fluids and gases.
DanfossDirect's online valve configurator and e-Commerce site allows you to customize your solenoid valve and order direct from Danfoss for same day shipping for in-stock items. Visit DanfossDirect.com today!
Danfoss' valve program suits a number of industrial applications and is known for high performance in these and other applications:
Compressors and vacuum pumps
Food processing machinery
Coffee machines
Available in 2 and 3 way, direct-operated, servo-operated, and assisted lift versions, Danfoss offers two series of high performing solenoid valves, offered with EPDM, NBR, or FKM seals.
· Danfoss A series is more economic and compact
· Danfoss B series has a high capacity and excellent performance
Some of the most popular Danfoss solenoid valves are:
· EV220B Universal Indirect Servo Operated solenoid valve
· EV310A Compact Direct Operated 3/2 way solenoid valve for Industrial Applications
· EV225B Steam Valve with dezincification resistant brass
A unique feature about Danfoss Solenoid Valves is that the valves and coils are sold separately to give the customer ultimate flexibility to best suit your needs. The Danfoss coil program consists of both the easy-to-handle Snap-On system and traditional coils with threaded fastener. Also, with approvals such as EEx/ATEX and UL, we offer a wide range of application specific coils for steam or hazardous areas and applications.
DanfossDirect.com is also home to Thermostatic, Angle Seat, and Proportional Valves.
AVTA Thermostatic valve for water cooling applications
AV210 Pneumatic Angle-Seat Valve for aggressive media
EV260B Proportional Valve
You can also determine and purchase a variety of spare parts and repair kits for Solenoid, Thermostatic, and Angle-Seat Valves.
Place your orders direct with Danfoss today and have your in-stock items shipped the same day on DanfossDirect.com!
---