AC Soft Motor Continuous Monitoring Starter
Product Announcement from Danfoss VLT Drives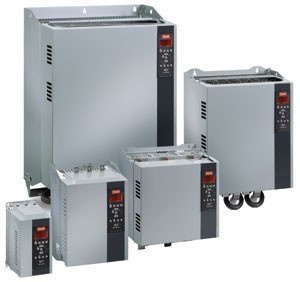 Danfoss Drive's latest evolution of the VLT® Soft Starter MCD 500 is a total motor starting solution for motors up to 850 kW and 1100HP. Utilizing feedback provided by current transformers which measure motor current to determine controlled motor ramp profiles, the MCD 500's Adaptive Acceleration Control (AAC) compares, configures and automatically employs the chosen profile best suited to the application at each stop and start.
The MCD 500 soft starter has a four-line graphical display and a logic keypad making programming easy. Advanced setup is possible displaying operational status. Three menu systems: Quick Menu, Application Setup and Main Menu provide optimum programming approach.
And now...with the addition of Control Panel VLT® LCP 501 designed with the same full function interface, everything you can do on the MCD 500 soft starter is possible via the LCP 501. Not only can set up times be reduced and simplified, the LCP 501 also enables remote operation. The screen view set up is selected from 7 standard views and one user programmable for full control and monitoring.
Typical applications include:
Pumps
Conveyors
Fans
Mixers
Compressors
Centrifuges
Mills
Saws
And many more
To learn more about the VLT® Soft Starter MCD 500 with the new VLT® LCP 501 control panel, be sure to contact Danfoss Drives today!
---