VLT® AutomationDrive FC300
Product Announcement from Danfoss VLT Drives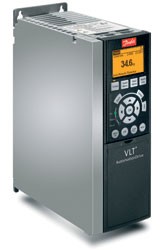 Engineered for design simplicity and high performance

The VLT AutomationDrive represents a single drive concept that controls the entire range of operations from standard to servo motors on any machine or production line. The modular open-technology platform on which the VLT AutomationDrive is built makes it exceptionally adaptable and programmable. Its configurable, user-friendly interface supports local languages and letters. With the VLT AutomationDrive series we have intelligent plug-and-play technology and unmatched reliability making drive operation pure childs play.

Complete Range of Drives
From 1/3 to 1200 HP
Chassis, NEMA/UL Type 1, 12
Features and User Benefits
Smart logic controller
A Smart Logic Controller built into the standard drives offers a wide range of essential PLC functions, while the optional VLT Programmable Logic Controller MCO enables complete PLC functionality.

Safety
The VLT AutomationDrive comes standard with the safe stop functionality suitable for category 3 installations according to EN 954-1. This feature prevents the drive from starting unintended.

Hot Pluggable LCP
The Local Control Panel (LCP) can be plugged in or out during operation. Settings are easily transferred via the control panel from one drive to another or from a PC with set-up software.

Intelligent Heat Management
Cooling can take place in two ways to offer different sets of benefits.

Forced convection cooling: A fan blows cold air through the cooling ribs of the aluminum base to remove heat. The channel is easily cleaned without touching electronics.

Cold plate cooling: External cooling is possible through the back side of the aluminum base. An air-guiding screen passes air from the fan past the electronics for additional cooling.
Accessories
Fieldbus Options/Accessories (A-Card)
- MCA 101 Profibus
- MCA 104 DeviceNet
- MCA 105 CANopen
- MCA 113 VLT® 3000 Converter
- MCA 121 Ethernet I/P
- Ethernet Master

Application Options/Accessories (B-Card)
- MCB 101 General Purpose I/O
- MCB 102 Encoder
- MCB 103 Resolver
- MCB 105 Relay
- MCB 108 Safe PLC Interface (FC302 only)
- MCB 112 Thermistor Input (FC 302 only)

Special Function Options/Accessories (C-Card)
- MCB 113 Extended Relay
- MCO 350 Synchronizing Controller
- MCO 351 Positioning Controller

DC Input Option/Accessory (D-Card)
- MCB 107 External 24 VDC Supply

Faceplate Options/Accessories
- LCP 101 Numerical Local Control Panel
- LCP 102 Graphical Local Control Panel
- MCF 102 LCP Panel Mounting Kits
You have successfully added from to your part list.
---