Product Announcement from Data Device Corporation (DDC)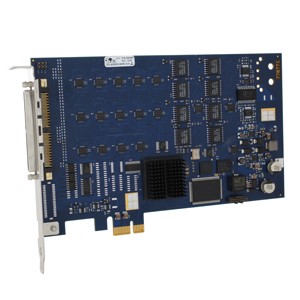 Maximum Flexibility and Cost Savings with DDC's New High Performance and Programmable 38 Channel ARINC 429/717 Cards!
Data Device Corporation (DDC) introduces a new line of ARINC 429/717 cards offering the most advanced test features with individually programmable Transmit/Receive ARINC channels, allowing one card to support all levels of testing and simulation. DDC's DD-40X00X series of cards are the only cards in the industry to offer up to 36 ARINC 429 programmable Tx/Rx channels, 2 ARINC 717 programmable Tx/Rx channels, parametric test functionality, variable output voltage, and on board voltage monitoring. Such extreme flexibility makes these cards optimal solutions for the widest range of applications, from System Integration Labs and Simulators, to Production Test Stands and System Troubleshooting.
Form factors: PCIe, PMC, PCI, cPCI & PXI
Benefits include:
Up to 36 ARINC 429 Programmable Tx/Rx Channels

Provides Complete Flexibility to Define Your I/O Mix
Facilitate Hardware In-the-Loop Testing and Integration

2 Programmable Tx/Rx ARINC 717 Channels for Flight Data Recorder Testing
16 Avionics Discrete I/O
On-Board Message Scheduling and DMA

High Performance Data Transfer for Real Time Simulation
Low CPU Utilization Offloads Host

Variable ARINC Speed Output

Allows Compatibility with ARINC Specifications that Run at Different Speeds
"Finally, users can purchase one ARINC 429/717 card to fit all of their test and simulation needs, and be assured that the same card can be reprogrammed to continue supporting new evolving requirements, saving users valuable time, cost, and effort", stated George Los, DDC's Data Bus Product Manager.
Data Device Corporation (DDC) is the world leader in the design and manufacture of high-reliability data bus, motion control, and solid-state power controller products for aerospace, defense, and industrial automation applications. For more than 45 years, DDC has continuously advanced the state of high-reliability data communications and control technology for MIL-STD-1553, ARINC 429, Synchro/Resolver interface, and Solid-State Power Controllers with innovations that have minimized component size and weight while increasing performance. DDC offers a broad product line of advanced data bus technology for Fibre Channel networks; MIL-STD-1553 and ARINC 429 Data Networking cards, components, and software; Synchro/Resolver interface components; and Solid-State Power Controllers and Motor Drives. DDC headquarters along with our design and manufacturing operations are located in Bohemia, NY. For more information, visit www.ddc-web.com.
You have successfully added from to your part list.
---