PCIe to 1553 BGA Saves Space & Power (1553)
Product Announcement from Data Device Corporation (DDC)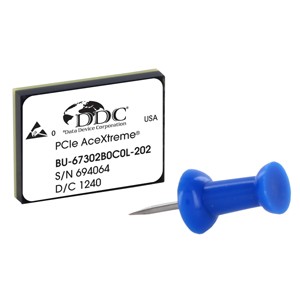 World's 1st PCI-Express to MIL-STD-1553 BGA Package Saves Space and Power!
Bohemia, New York (July 2013) Data Device Corporation (DDC) introduces the PCIe-Express AceXtreme® component. The BU-67302B0C0L-202 provides dual MIL-STD-1553 transceivers, protocol, and 64K x 36 of internal memory within a single BGA device with a PCI-Express host interface. It is ideal for industrial temperature range applications (-40°C to +85°C) where PCB space is at a premium, due to its compact size of just 15 mm x 20 mm, and its low power dissipation.
The device provides a dual redundant MIL-STD-1553 channel with very low power, less than 1.1W power dissipation @ 50% duty cycle. It includes an IEEE 1149.1 compliant JTAG test interface to support boundary scan testing of circuit assemblies, a digital IRIG-B input, and 8 digital discrete I/O lines.
Benefits include:
Ultra Small Size and Efficiency Saves Space and Power
Replaces 2 Transceivers, MIL-STD-1553 Protocol Core, and Memory
Single Package with PCIe Board Design
RT Validated to Simplify SAE-AS4112 Qualification
RoHS Version Available
"The PCI-Express AceXtreme® saves board space and power, while simplifying MIL-STD-1553 board design and layout by utilizing a commonly available, high performance, serial back end interface to the host processor", stated Sean Sleicher, DDC's Data Bus Marketing Manager.
Data Device Corporation (DDC) is the world leader in the design and manufacture of high-reliability data bus, motion control, and solid-state power controller products for aerospace, defense, and industrial automation applications. For nearly 50 years, DDC has continuously advanced the state of high-reliability data communications and control technology for MIL-STD-1553, ARINC 429, Synchro/Resolver interface, and Solid-State Power Controllers with innovations that have minimized component size and weight while increasing performance. DDC headquarters, design and manufacturing operations are located in Bohemia, NY. Visit www.ddc-web.com.
---