Datacolor Ahiba® QUICKDOSE
Product Announcement from Datacolor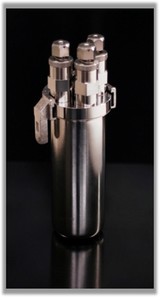 Proper Chemical dosing in a textile lab results in a much closer match between lab dyeing and production dyeing, reducing the need for color corrections in production. With Ahiba QuickDose, this process can now be quicker, safer, and more precise. Using three independent quick-actuating and color-coded capsules, all beakers can be actuated in less than one minute and filled with either liquid or powder. Each chemical can be quickly dosed at the proper time in the dyeing cycle, and thanks to the option to use powders, changes in temperature to the dyebath are minimized. Made of high quality 316L Stainless Steel, the system is both durable and easy to clean and maintain.
The Ahiba QuickDose serves as a more practical tool for operators, who would usually have to do the same chemical dosing work manually. Injection/syringe systems are time consuming and use chemicals that must be diluted prior to injecting them in the dyebath affecting the liquor ratio. Powder systems currently in the market, do not grant a choice of which auxiliaries to add, but rather adds all of them at once at temperature. The Ahiba QuickDose eliminates all these issues, all while lowering maintenance costs, utilizing both liquid and powder, and reducing time spent on the process as a whole.
"Without a chemical dosing system, an operator would have to manually remove the beakers and manually add chemicals," said Jeff Fain, product manager, Datacolor "With the new Ahiba QuickDose, we replace time consuming and unsafe dosing operations with an easy-to-use and efficient system. With this addition to the Ahiba product line, we can offer greater reproducibility between lab dyeing and production dyeings.
The QuickDose system requires no new installation or setup to be able to use with the Ahiba Infrared systems. Pre-filled capsules can hold up to 5gr of powder or 7ml of liquid. It is only available for 300cc, 500cc, and 1000cc beakers with Ahiba IR or Ahiba IR Pro dyeing machines. For information on the Ahiba QuickDose system, please visit http://www.datacolor.com/quickdose
Overview:
AHIBA IR lab dyeing machines are known for precision, convenience and high repeatability of dyeing. AHIBA® QuickDose is a patented lid designed for AHIBA beakers with 3 independently operated dosing capsules. It allows safe and easy addition of both liquids and powders to the dyebath. The dyeing cans don't need to be removed or opened for dosing. QuickDose is most commonly used in exhaust dyeing with reactive and acid dyes. Designed For:The textile laboratory where speed accuracy and dependability are the primary focus. Lab dyeing with high lab-to-production reproducibility
Features:
The main benefit of chemical dosing in the lab is that it results in a closer match between lab dyeing and production dyeing with the same dye recipe. This improves productivity by reducing the need for corrections in production. Addition of chemicals at specific points in the dyeing process, rather than all at once in the beginning, is a key to improving reproducibility between lab dyeing and production.
Reproducibility: Each chemical can be quickly dosed at the correct time in the dyeing cycle. The use of powder minimizes changes to temperature and liquor ratio. This results in high lab-to-bulk correlation.
Ease-of-Use: The dosing lid has 3 quick-actuating, color-coded capsules. A ¼ turn of the cap by the operator opens the capsule valve to the dyebath. All beakers can be actuated in less than one minute. The system is easy to clean and maintain.
Flexibility: Three independently operated capsules that can be filled with either powder or liquid. This option further allows the dye machines to easily dye multiple shades simultaneously.
Durability: The newly designed dosing system is durable. The machined components are made of high quality 316L Stainless Steel.
What you get:
Included in package (New AHIBA IR or AHIBA IR Pro with QuickDose
New system complete with new set of dosing beakers (15 x 300cc, or 8 x 500cc, or 8 x 1000cc)

Beaker Lid Closing Tool (61-200187)
Spare Set of Lid O-Rings (894079 or 894080)
Capsule Actuating Tool (61-200231)

Spare O-rings for dosing caps
Spare PT-100 Sensor (71-400110)
Funnel, 5ml (61-200232)
User Manual and Installation Guide on USB Flash Drive
Requirements:
Installation requirements
Normal installation requirements of the Ahiba IR system, no new requirements with dosing.
Environment:
It should be understood that the AHIBA® IR is an air cooled unit therefore room temperature is recommended to be less than 20°C to achieve maximum results and efficiency. Level and Stable table/bench with a minimum of 140 Kg load capacity. Unit Foot Print:690 x 570 x 680 mm (H x W x D) minimum
Power:
230V(+/-10%), 15A, 50/60 Hz, single phase with earth ground.
About Us
Datacolor is a global leader in color management solutions and color communication technology. The world's leading brands, manufacturers, creative professionals and consumers, have been choosing Datacolor's innovative technology and solutions to consistently achieve the right color for 40 years.
The aesthetic appeal, comfort and quality of the vehicle interior is of key importance for car buyers during their decision making process. Datacolor can quickly roll out dependable global color communication programs for the automotive industry, delivering harmony among different materials with various surface textures.
Today's competitive paint and coatings industry depends on globally distributed manufacturing to rapidly respond to customers' needs while driving down costs. Our technology helps you standardize processes to guarantee color integrity throughout your supply chain. With the Datacolor formulation and QC systems, you can increase sales, reduce waste, and enhance quality.
Datacolor's systems are perfect for the paper industry, offering precision numerical color measurements that provide exceptional consistency in color, brightness, opacity, pulp and additives. With Datacolor, what you see is what your customer sees.
As the plastics industry continues to develop innovative polymers and cutting edge designs, the marketplace simultaneously requires accelerated production times. Datacolor technology streamlines the process, allowing you to rise to the challenges of the marketplace, meet customer demands, and respond to new trends.
Provide your customers with the best color matching results in the industry with a Retail Paint Solution from Datacolor. Our easy-to-use paint software delivers excellent color matches from samples measured by the Datacolor 110™ Spectrophotometer (the same instrument used in many paint manufacturing color labs). And our new SelectKit gives you a very affordable option for color matching in your store. Software, like Coordinate™, allows you to generate complementary colors, while Decorate™ lets you visualize those colors on interiors and exteriors. And with Datacolor Spyder4®, you can enhance the visual accuracy of your on-screen colors.
To be globally competitive today, apparel and textile companies have to deal with shorter lead times, cost pressures, and increased quality and productivity demands. Datacolor's proven family of products help you address these critical issues by enabling all partners in a textile supply chain to expedite color development and deliver optimum color management, adding significant value to the complex global sourcing process.
Quality:
In today's competitive marketplace, effective quality management is indispensable. Customers want to be confident that they are doing business with an organization that can meet or exceed their requirements in a timely manner.
We are pleased to inform you that on December 28th, 2009, Datacolor received its ISO 9001:2008 recertification for its Quality Management System at the company's U.S.-based Lawrenceville, NJ, and Suzhou, China manufacturing facilities. Because it is an internationally recognized quality management system, ISO 9001:2008 certification gives Datacolor customers that confidence.
"We are very proud of our Lawrenceville and Suzhou teams for their contribution in helping us earn this prestigious recertification, which is accomplished by only a small percentage of companies," says Niraj Agerwal, Vice President of Marketing for Datacolor. "This is just one more example of our ongoing commitment to achieving excellence in everything we do."
---