Datacolor PROCESS™
Product Announcement from Datacolor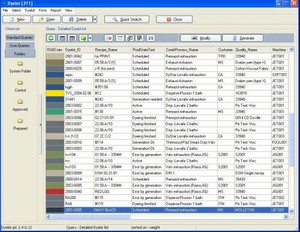 Overview
With increasing pressure for smaller production lots, shorter time to market and intricate blends, the only way to optimise time, recipe development and production is to have a broad knowledge base taken directly from dyers themselves. Datacolor PROCESS™ is a unique software solution that uses the knowledge of the experts in your company to help you manage dyeing recipes and entire processes. It automatically creates or specifies the best production recipe for any color, dyed on a specific fabric and for a particular customer. It manages hundreds of different production recipes by relevant dyeing requirements.
Automatically Optimizes Production Recipes
Datacolor is aware of the complexity of shepherding a color recipe from the laboratory into production. With increasing pressure for smaller production lots, shorter time to market and intricate blends, the only way to optimize time, recipe development and production is to have a broad knowledge base taken directly from dyers themselves. Datacolor PROCESS™ is a unique software solution that uses the knowledge of the experts in your company to help you manage dyeing recipes and processes. It is so effective that you will feel the benefits throughout the dyehouse… all the way to the bottom line
Understands the Way You Work
Designed by dyers for dyers, Datacolor PROCESS™ is a benefits-rich system that automates every aspect of sophisticated recipe management and optimization. Because it is based on your knowledge about behavior of dyestuffs, auxiliaries, processes, substrates and machines, as well as your customer requirements, it is able to adapt to your specific demands and respond to your organization's unique workflow. Dyeing textiles depends on distinctive factors. You know them; we reflect them – always. Improves Your Bottom Line Datacolor PROCESS™ automatically creates or specifies the best production recipe for any color dyed on a specific article and for a particular customer. It can manage hundreds of different production recipes while simultaneously optimizing the recipes by relevant dyeing requirements. As a result, your entire operation will become substantially more efficient and productive, speeding deliveries and tangibly reducing costs.
Datacolor PROCESS™ is part of Datacolor SPECTRUM™, the complete solution for successful global color management. Datacolor Process is designed to work seamlessly with Datacolor MATCHTEXTILE™ and Datacolor WEIGH™ to handle the entire textile production process from one common software platform – from initial lab recipe creation through production optimization and dyestuff/chemical weighing.
Datacolor PROCESS™ is designed to link with other systems, such as those used by dye machine supervisors, administration (ERP) or automatic dosing, to streamline dataflow and speed up analyses and production. Only Datacolor allows you to choose the degree of integration based on your specific needs. Datacolor PROCESS™ comes automatically with those functions most requested within the industry. However, the system can be configured to meet your exact requirements.
Among the individual options are:
A controlled weighing module.
An enhanced production capacity overview with dual-level planning tools.
Fully integrated stock control
A printing module that helps group complete print designs with all associated recipes
Designed For:
Continuous and exhaust dyehouses
Features:
Dyestuff data management
Input of fiber groups and affinities
Automatic creation of dyestuff names
Dyestuff exchange
Quality/Style management
Input of fiber groups and affinities
Input of blends
Input of all quality specific parameters/auxiliaries for dyeing behavior
List and display of all customer or quality-specific colors and standards
Color management
List of all recipes and dyelots per color
Customer management
Input of customer data
Customer-specific standard labeling with specific name
Recipe and Process management
Input of complete production recipes, incl. specific recipe information
Pass/Fail results of recipes to the standard can be displayed on recipe card
Storage of recipe status (theoretical, laboratory, production)
Printout of lab recipes, simple production recipes and complete production process
Recipe search via different search criteria
Automatic recipe update upon dyestuff concentration changes
Specific information like finishing type, preparation type, technical specification
and "to do" date for generation of dyeing process
Creation of modular production recipes including process handling for single
treatments and multiple treatments
Handling of exhaust, continuous and semi-continuous processes
Specific linked processes for production adds and re-dyes
Automatic process selection through defined rules
"If-then-else" rules that vary according to dyestuff amounts in the recipe, the affinity or dyeing machine group
Recipe evaluation based on product costs
Tank number and volume can be calculated, depending on total volume (Pad-batch)
Production management
Batch ticketing: simple or advanced with additional information
Input and list of defined dyeing lots
Calculation of chemical /dye quantities for the dye kitchen
Output of simple production lots (simple batch ticket)
Output of production adds (production ticket) with additional technical information
Category creation of qualities/styles and customer
Machine management with min/max machine load, liquor ratio, etc.
Choice of dyeing machine with min/max control of machine capacity,
liquor ratio, pickup etc.
Input of delivery and required date
Display of Pass/Fail results in the dyelot card
Sorting of production lots
History of production lots and production adds
Cost analysis (recipes and processes)
Cost calculation of lab recipes
Production cost calculation incl.dyestuffs and chemicals
Cost comparison of different processes/cost optimization
History of production cost
Additional features
Error free batch ticketing
Automatic and instant sharing of data among applications
Manages production relevant data
Adapts to specific demands and responds to individual workflows
Shared database with other Datacolor textile software products
Designed to link with dye machine supervisor and ERP systems
Optional controlled weighing module Optional, fully integrated stock control
Optional dyelot planning tool
Reduced production time and cost with a fully automated optimisation process
Increased productivity with start-to-finish cost analysis
Improved planning and production cost analysis
What You Get
Datacolor PROCESS™ software license of defined level
OPTIONAL MODULES THAT EXPAND DATACOLOR PROCESS CAPABILITIES TO MEET INDIVIDUAL NEEDS:
Basic level inventory module
Definition of specific stock conditions (minimum and optimum amount, drum capacity) for each product and for lists of products below minimum quantity.
Automatic product quantity update for those production batches marked as finished, incl. low stock alert
Display of added, used and adjusted quantities
Display of all dyelots by specific product
Report of stock value with current price and predefined consumption reports
Advanced inventory module
Manages all reservations, deliveries and orders, with the ability to accommodate variations in product strength and price delivery.
Customized form editor module
Report Explorer for creation and customization of reports, including:
Production card customization
Report creation using a "wizard," e.g. list of dyelots by machine and with additions per month; list of recipes using specific dyestuffs.
User-friendly tool for creation and modification of record lists, e.g. all products below stock minimum
Export of generated report lists into text files
Dyeorder module
Groups or splits dyelots that are dyed using the same recipe, for maximum machine capacity usage
Advanced formula/rules module expands the automated optimization functionality
Control of dyestuff combinability
New bath generation for continuous dyeing corrections
Display of total forecasted process time in temperature/time diagrams
Introduction of batch parameters and adaptation of chemicals and parameters
Calculation/optimization of production cost for different dyestuff, chemicals and
machine operation choice.
Optimization of chemicals, parameters and dyestuff quantities upon a large choice of conditions, e.g. concentration, customer, machine, LR, etc.
About Us
Datacolor is a global leader in color management solutions and color communication technology. The world's leading brands, manufacturers, creative professionals and consumers, have been choosing Datacolor's innovative technology and solutions to consistently achieve the right color for 40 years.
The aesthetic appeal, comfort and quality of the vehicle interior is of key importance for car buyers during their decision making process. Datacolor can quickly roll out dependable global color communication programs for the automotive industry, delivering harmony among different materials with various surface textures.
Today's competitive paint and coatings industry depends on globally distributed manufacturing to rapidly respond to customers' needs while driving down costs. Our technology helps you standardize processes to guarantee color integrity throughout your supply chain. With the Datacolor formulation and QC systems, you can increase sales, reduce waste, and enhance quality.
Datacolor's systems are perfect for the paper industry, offering precision numerical color measurements that provide exceptional consistency in color, brightness, opacity, pulp and additives. With Datacolor, what you see is what your customer sees.
As the plastics industry continues to develop innovative polymers and cutting edge designs, the marketplace simultaneously requires accelerated production times. Datacolor technology streamlines the process, allowing you to rise to the challenges of the marketplace, meet customer demands, and respond to new trends.
Provide your customers with the best color matching results in the industry with a Retail Paint Solution from Datacolor. Our easy-to-use paint software delivers excellent color matches from samples measured by the Datacolor 110™ Spectrophotometer (the same instrument used in many paint manufacturing color labs). And our new SelectKit gives you a very affordable option for color matching in your store. Software, like Coordinate™, allows you to generate complementary colors, while Decorate™ lets you visualize those colors on interiors and exteriors. And with Datacolor Spyder4®, you can enhance the visual accuracy of your on-screen colors.
To be globally competitive today, apparel and textile companies have to deal with shorter lead times, cost pressures, and increased quality and productivity demands. Datacolor's proven family of products help you address these critical issues by enabling all partners in a textile supply chain to expedite color development and deliver optimum color management, adding significant value to the complex global sourcing process.
Quality:
In today's competitive marketplace, effective quality management is indispensable. Customers want to be confident that they are doing business with an organization that can meet or exceed their requirements in a timely manner.
We are pleased to inform you that on December 28th, 2009, Datacolor received its ISO 9001:2008 recertification for its Quality Management System at the company's U.S.-based Lawrenceville, NJ, and Suzhou, China manufacturing facilities. Because it is an internationally recognized quality management system, ISO 9001:2008 certification gives Datacolor customers that confidence.
"We are very proud of our Lawrenceville and Suzhou teams for their contribution in helping us earn this prestigious recertification, which is accomplished by only a small percentage of companies," says Niraj Agerwal, Vice President of Marketing for Datacolor. "This is just one more example of our ongoing commitment to achieving excellence in everything we do."
---