Datacolor SELECT Kit™
Product Announcement from Datacolor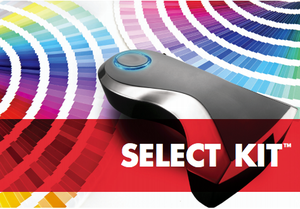 Datacolor, a global leader in digital color management technology, is introducing a new and affordable way for the retail paint and home decor outlets to provide customers with computer-aided color matching systems. Datacolor SELECT Kit™ is a value priced solution to color matching and selection offering many of the same features found in more expensive systems including color measurement, fast colorimetric search and formula identification, customer formula storage, retrieval, and adjustment.
Color measurement and fast colorimetric search and formula retrieval
Customer formula storage and retrieval
Manual formula storage and adjustment
Match competitor's fan deck colors
Virtual design and visualization
Instant color harmony advice
Label printing
Communication with popular automatic dispensers
Monitor calibration using award-winning Spyder4 monitor calibrator
Datacolor's new SELECT Kit™ is an economical, yet extremely powerful tool, for matching and measuring colors using state-of-the-art measurement and search engine technology to identify perfect matches from thousands of colors.
Designed For:
Paint and coating industries
Accuracy and Efficiency
Your customers have the true feel of advanced technology. This means they can measure their sample, quickly reference it to a physical standard and get the paint they want. Their data is stored and they can come back later to get same color paint again.
What you See is What you Get
The Datacolor Spyder3™ monitor calibrator assures faithful on screen color and prevents costly mistakes. Combined with the virtual design and visualization software Datacolor Decorate, your customer see exactly how the color will look like in interior and exterior settings.
Increase your paint sales
Digitally Enhance Sales
Drive additional sales with the module offering instant color harmony advice: Datacolor Coordinate
Win Loyalty and Repeat Business
Datacolor SelectKIT™ boosts sales associate's productivity and confidence. Increase your store traffic by attracting, impressing and retaining paint customers offering them the latest technology provided in the industry today for paint matching services.
Maintain repeat business by keeping database of customers' previous paint purchases or specifications for future projects.
Lower your costs
The Power of Speed
Reduce the time it takes to get the color from the customer's brain to the bucket. This means you reduce needless iterations of finding the right formula. Datacolor SelectKIT™ state of the art search engine quickly shows the best match from hundreds – even thousands – of colors.
Affordable Price
Provide the same services that your largest competitors do at a very affordable price. Datacolor SelectKIT™ does not require long training and is a ready to use tool.
Paint Manufacturers
Increase your paint sales
Unique powerful paint-selling tool
Providing this tool will give your stores a competitive advantage. This means that you will be the preferred brand in the shop and that will help increasing your market shares.
Lower your costs
More Performance – More Affordable
With an enhanced spectrocolorimeter at a lower price, Datacolor SelectKIT™ offers an unrivaled solution. It contains the same technology used by the largest and highest volume competitors. Datacolor helps you compete by making a complete color matching technology affordable.
The Power of Simplicity
Datacolor SelectKIT™ is a very simple and easy too use tool. This means that does not require a lot of training for your retailers and you can easily integrate your existing database.
Evolutive Solution
Datacolor SelectKIT™ is a solution that grows with your retailers. This means that while increasing their business, if they need a complete custom color matching or to correct off-shades and mis-tints, even your competitor's mis-tints, they can easily upgrade their system without changing the way they work or having to learn new software.
What You Get
Datacolor Select™ spectrocolorimeter
Datacolor Paint Select™ Software CD
Printed Quick Start Guide
About Us
Datacolor is a global leader in color management solutions and color communication technology. The world's leading brands, manufacturers, creative professionals and consumers, have been choosing Datacolor's innovative technology and solutions to consistently achieve the right color for 40 years.
The aesthetic appeal, comfort and quality of the vehicle interior is of key importance for car buyers during their decision making process. Datacolor can quickly roll out dependable global color communication programs for the automotive industry, delivering harmony among different materials with various surface textures.
Today's competitive paint and coatings industry depends on globally distributed manufacturing to rapidly respond to customers' needs while driving down costs. Our technology helps you standardize processes to guarantee color integrity throughout your supply chain. With the Datacolor formulation and QC systems, you can increase sales, reduce waste, and enhance quality.
Datacolor's systems are perfect for the paper industry, offering precision numerical color measurements that provide exceptional consistency in color, brightness, opacity, pulp and additives. With Datacolor, what you see is what your customer sees.
As the plastics industry continues to develop innovative polymers and cutting edge designs, the marketplace simultaneously requires accelerated production times. Datacolor technology streamlines the process, allowing you to rise to the challenges of the marketplace, meet customer demands, and respond to new trends.
Provide your customers with the best color matching results in the industry with a Retail Paint Solution from Datacolor. Our easy-to-use paint software delivers excellent color matches from samples measured by the Datacolor 110™ Spectrophotometer (the same instrument used in many paint manufacturing color labs). And our new SelectKit gives you a very affordable option for color matching in your store. Software, like Coordinate™, allows you to generate complementary colors, while Decorate™ lets you visualize those colors on interiors and exteriors. And with Datacolor Spyder4®, you can enhance the visual accuracy of your on-screen colors.
To be globally competitive today, apparel and textile companies have to deal with shorter lead times, cost pressures, and increased quality and productivity demands. Datacolor's proven family of products help you address these critical issues by enabling all partners in a textile supply chain to expedite color development and deliver optimum color management, adding significant value to the complex global sourcing process.
Quality:
In today's competitive marketplace, effective quality management is indispensable. Customers want to be confident that they are doing business with an organization that can meet or exceed their requirements in a timely manner.
We are pleased to inform you that on December 28th, 2009, Datacolor received its ISO 9001:2008 recertification for its Quality Management System at the company's U.S.-based Lawrenceville, NJ, and Suzhou, China manufacturing facilities. Because it is an internationally recognized quality management system, ISO 9001:2008 certification gives Datacolor customers that confidence.
"We are very proud of our Lawrenceville and Suzhou teams for their contribution in helping us earn this prestigious recertification, which is accomplished by only a small percentage of companies," says Niraj Agerwal, Vice President of Marketing for Datacolor. "This is just one more example of our ongoing commitment to achieving excellence in everything we do."
---