Portable Color & Gloss Measurement.
Product Announcement from Datacolor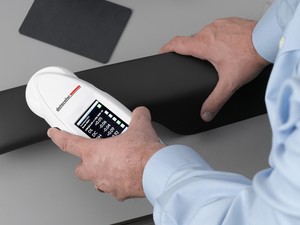 Datacolor 45G® is the new benchmark for portable color appearance and gloss measurement. With an integrated gloss meter, the industry's best repeatability, unrivaled inter-instrument agreement and the included Datacolor TOOLS desktop software, the 45G® has the performance needed to effectively control color and appearance in a complex manufacturing supply chain. Datacolor 45G® is useful for inspection and control of painted surfaces, plastic parts, package prints, automotive parts and other manufactured goods, producing measurement results that correlate better to visual assessment.
SCROLL DOWN TO SEE THE VIDEO
Designed for inspection and control of painted surfaces, plastic parts, package prints, automotive parts and other manufactured goods Datacolor 45G® features include
Best-in-class accuracy and inter-instrument agreement
Measure gloss and color simultaneously
Correlates with visual assessment
Desktop QC software included
Bluetooth and USB Connectivity
Pass/Fail display on multiple tolerances
Ergonomic Design
What You Get in the 45G® Instrument
Carrying Case
USB Memory Stick with Calibration Data
Calibration Stand
Calibration Tile care instruction sheet
Targeting Foot Attachment
Power Supply and Cord, with global connectors
USB Connection Cord
Datacolor Tools (Basic or Plus) Software CD
Datacolor 45G® User guide CD
Quick Start Guides for 45G and Tools
Learn more about applications of Datacolor's 45G® via the links on the left, e mail us or click below
---