Product Announcement from Dataforth Corporation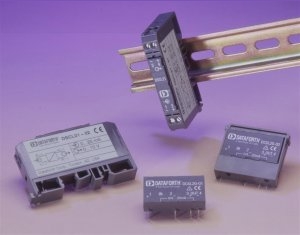 Dataforth Corporation, Tucson, Arizona, offers two series of loop powered isolators: the DSCL20 and the DSCL21. These isolators provide a simple low-cost solution to providing protection for analog signals in the range of 0(4) to 20mA. They are designed specifically to prevent the transfer of interference voltages or currents and to break signal distorting ground loops.
Each DSCL20 and DSCL21 provides a single channel of 500Vrms transformer isolation for analog signals in the range of 0(4) to 20mA. They operate passively, deriving their power from the input signal. No external power supply is required. The DSCL20 is packaged as a "component" style module ideal for printed circuit board mounting. It measures only 1.6" x 0.8" x 0.4" (41mm x 21mm x 10.3mm) and is available in both straight and right angle pins. A socket and hold-down accessory, the DSCX-01, can be soldered into a printed circuit board, allowing plugging and unplugging the straight pin model for OEM design applications.
Download the DSCL20 and DSCL21 User Manuals.
The DSCL21 is a DIN rail mount version of the DSCL20 component module. It is very compact for high density mounting, measuring only 0.5" (12.5mm) wide and 2.95" (75mm) tall.
Input range for the DSCL20/21 is 0(4) to 20mA with a maximum limit of 50mA. Accuracy over the entire operating range is better than ±0.1% at 100W load resistance. Output range for the DSCL20 is 0(4) to 20mA. The DSCL21 may be ordered with either 0(4) to 20mA or 0(2) to 10V output. For all models, the load resistance range is 0 to 600W, and bandwidth is 200Hz. Operating temperature is -20°C to +65°C, and storage temperature is -40°C to +85°C.
For additional information, call 800-444-7644 toll-free, email sales@dataforth.com, or visit our website at www.dataforth.com.
Dataforth was established in 1984 and is the world leader in data acquisition, signal conditioning and data communication products for industrial applications. Worldwide, our electronic data acquisition, signal conditioning, and data communication products provide rugged signal and data integrity and wide spectrum accuracy. All Dataforth products are manufactured in the USA and have been RoHS Compliant since 2006. The Dataforth Quality Management System is ISO9001:2008 registered.
You have successfully added from to your part list.
---