Clean Room Hoists, Cranes, Winches
Product Announcement from David Round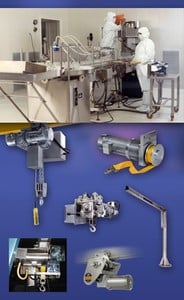 Clean Room Hoists, Cranes, Winches
David Round is your source for stainless steel powered chain hoists, clean room strap hoists, stainless Steel wire rope hoists, jib cranes and other pharmaceutical lifting equipment.
We are able to supply corrosion resistant stainless steel versions of many lifting products as standard items. If you have special applications or unusual challenges, our engineering staff welcomes your request to custom design a unique solution to your environment.
We are flexible enough to accommodate purpose-built lifting equipment, and offer a large range of options such as various levels of polished surfaces and explosion-proof designs.
---