Clean Room Strap Hoists
Product Announcement from David Round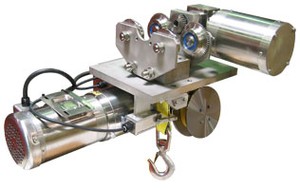 Clean Room Strap Hoists
David Round Clean Room Strap Hoists are designed for Class 10,000 use to meet the clean room processing needs of pharmaceutical processors, food manufacturing and high-tech manufacturers. CRS-Series strap hoists are designed for operation inside controlled environments. Various models and trolley options can accommodate loads up to 4,000 pounds.
Lube-Free Lifting Strap
By using a polypropylene lifting strap, CRS-Series hoists eliminate the contamination associated with the surface lubrication of chain and wire rope. Metallic dust and particulate contamination caused by chain abrasion and wire rope wear is also eliminated.
Crack and Crevice Free Construction
The easy-to-clean open design of CRS-Series strap hoists features stainless steel surfaces polished in addition to flush mounting faces, ground welds and plugged fasteners to reduce the likelihood of contaminant build-up.
Standard Features Include:
Polished stainless steel external components
Sealed gearing with food-grade lubrication
Clean room grade motor and motor brake
Polypropylene lifting strap
Stainless Steel load hook with latch
Stainless Steel NEMA 4X electrical enclosure
Single speed reversing contactor with thermal overload relay and transformer
NEMA 4X 2-button pendant
Lug mounted
230/460 Volts — 60Hz — 3 Phase
Clean room strap hoists are available with the options:
Low head room designs
Hook travel limit switch
115/230 Volts — Single Phase
Various levels of polished surfaces
Variable speed operation with AC inverter
Stainless Steel push or motorized trolley
Nylon / composite trolley wheels
Trolley soft start
Mainline contactor
Complete overhead systems
Clean Room Strap Hoists Product Literature
---