Custom Portable Crane Products in Stainless Steel
Product Announcement from David Round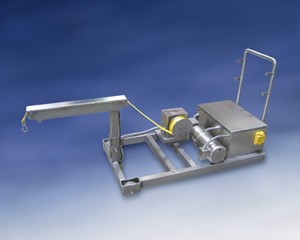 Ruger Industries, Inc., announced a program for custom design and manufacture of stainless steel portable crane products. These floor cranes feature stainless steel construction, stainless steel hydraulic pumps and antimicrobial wheels, making them appropriate for pharmaceutical manufacturing, clean room processing, electronics manufacturing or food processing applications.
Many firms use Ruger portable crane products as safer, smaller and less expensive alternatives to tow motor-type lift trucks. Also known as engine cranes or engine hoist products, they offer significant ergonomic benefits, as they eliminate many backbreaking activities while easily navigating standard door openings, narrow aisles and elevators.
Ruger manufacturers both manual portable cranes and full power portable crane products in stainless steel. Lifting capacities range from 500 lbs. up to 6000 lbs. Full power driveable versions are ideal for repetitive lifting and maintenance applications.
All Ruger products are constructed for continuous industrial use, featuring structural tubing of 1/4" to 1/2" wall thickness, large lubricated casters and totally welded fabrication. Although they contain more than twice the metal as many competitive cranes with the same lifting rating, they are easy to maneuver.
Ruger Industries is a division of The David Round Company. Established in 1869, The David Round Company remains one of the oldest hoist manufacturers in the world. David Round offers standard handling products such as chain hoists, jib cranes, winches and tractor drives as well as innovative solutions including engineered wire rope hoists, all stainless steel chain hoists and jib crane motorization kits.
Found in almost every industry from pharmaceutical processing and food manufacturing to oil and gas, aviation, pulp and paper and water control, David Round's products improve handling system efficiency while making the workplace a more productive and safer environment through their ergonomic designs.
Ruger Industries is located at 10200 Wellman Road, Streetsboro, OH 44241 Telephone: 800-535-2725, 330-656-1600 Fax: 330-656-1601 Web: www.davidround.com Email: info@davidround.com
---