Stainless Steel Lift Tables
Product Announcement from David Round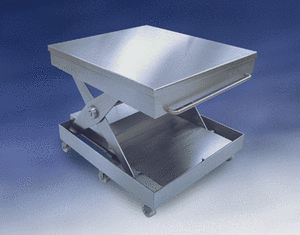 The David Round Company announced that its Ruger Industries Division is now producing all-stainless steel lift tables, specifically designed for use within the controlled environments found in pharmaceutical manufacturing.
These stainless steel lift tables feature protected hydraulics and a highly polished finish to facilitate wash-downs. They are designed to meet both the complex requirements demanded by the pharmaceutical industry as well as providing the maximum ergonomic benefits of a lift table.
The lift tables are entirely paint-free on external surfaces, which has been mandated by many drug makers for all clean room equipment. Capacities are up to 2000 lbs. Raised height is 42", lowered height is 18".
The David Round Company is a leader in material handling equipment for pharmaceutical use. Eight out of ten of the largest pharmaceutical manufacturers have David Round stainless hoists in their newest facilities.
Ruger Industries, Inc. is a division of The David Round Company. Established in 1869, The David Round Company remains one of the oldest hoist manufacturers in the world. David Round offers standard handling products such as chain hoists, jib cranes, winches and tractor drives as well as innovative solutions including engineered wire rope hoists, all-stainless steel products and jib crane motorization kits.
Major corporations and engineering firms routinely ask David Round to produce items which are non-standard for other material handling equipment suppliers. The company excels at designing and producing custom engineered equipment, purpose-built to tailor to special environments and applications.
Found in almost every industry from pharmaceutical processing and food manufacturing to oil and gas, aviation, pulp and paper and water control, David Round's products improve handling system efficiency while making the workplace a more productive and safer environment through their ergonomic designs.
The David Round Company is located at 10200 Wellman Road, Streetsboro, OH 44241 Telephone: 800-535-2725, 330-656-1600 Fax: 330-656-1601 Web: www.davidround.com Email: info@davidround.com
---