Stainless Steel Motorized Jib Crane Rotation Kits
Product Announcement from David Round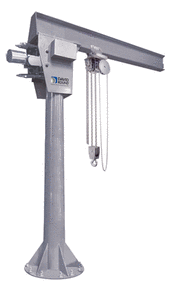 The David Round Company announced that its Roto-Mate™ Jib Crane Motorization products are available in stainless steel for sanitary and clean room use.
Roto-Mate kits provide powered rotation to either new or existing jib cranes, which can significantly reduce the injury potential posed by manually-rotated cranes. Back injuries and strains frequently result from workers attempting to stop the motion of a boom on a swinging jib crane. The Roto-Mate package safely and accurately positions up to 5 ton loads with push-button control.
Additional ergonomic and safety benefits of the unit include the avoidance of "jib drift," which is the unintended movement of a boom due to vibration or floors that are not perfectly flat. The Roto-Mate unit has a friction drive which locks the jib in place, eliminating drift and the collision potential it creates.
Additionally, jib motorization can eliminate hoist side-loading, avoid machinery damage and help keep operators farther away from crane loads while they are in motion.
Roto-Mate motorization is available for nearly all makes of free-standing jibs as a retrofit upgrade package to improve ergonomics, or it is available on new David Round jib cranes.
Established in 1869, The David Round Company remains one of the oldest hoist manufacturers in the world. David Round offers standard handling products such as chain hoists, jib cranes, winches and tractor drives as well as innovative solutions including engineered wire rope hoists, all-stainless steel products and jib crane motorization kits.
Major corporations and engineering firms routinely ask David Round to produce items which are non-standard for other material handling equipment suppliers. The company excels at designing and producing custom engineered equipment, purpose-built to tailor to special environments and applications.
Found in almost every industry from pharmaceutical processing and food manufacturing to oil and gas, aviation, pulp and paper and water control, David Round's products improve handling system efficiency while making the workplace a more productive and safer environment through their ergonomic designs.
The David Round Company is located at 10200 Wellman Road, Streetsboro, OH 44241 Telephone: 800-535-2725, 330-656-1600 Fax: 330-656-1601 Web: www.davidround.com Email: info@davidround.com
---