Knitted Fiberglass Gasket... temps 540°C/1000°F.
Product Announcement from Davlyn Manufacturing Co., Inc.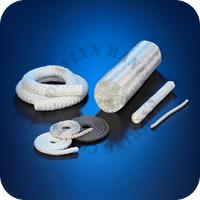 Davlyn Manufacturing knitted ropes are constructed of high quality type E glass that will not burn and will withstand continuous exposure to temperatures of 540°C/1000°F. This material resists most acids and alkalis; is unaffected by most bleaches and solvents; and is highly flexible and conformable.
The basic fiber is manufactured in accordance with specifications outlined in ASTM D-578, ASTM committee D13, and subcommittee D13.18.
Applications include Gaskets are a critical application for boiler, coke oven, industrial oven, and wood stove doors; crucible packing and pollution control equipment; high temp tying and lacing cords; tadpole tape core ropes; and pipe wrap.
All rope products are available in black. In addition, any rope can be wire jacketed for better abrasion resistance; coated with high temperature flame resistant silicone rubber (Silco Rope®); overbraided in sizes through 5"; or supplied with a pressure sensitive tape to facilitate gasket installation.
---