High Power PBS - Promotion
Product Announcement from Dayoptics, Inc.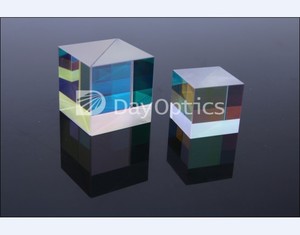 With mature of fabrication high power PBS for mass production application, we are able to reduce cost of the PBS. Although high power PBS has high tranmssion, high extinction ratio and high damage threshold compared with normal cemented PBS, the price provided by Dayoptics is not too much different at the moment. Ask our sales for more detail or get quotation for your comparsion.
Dayoptics has successfully manufactured optically contacted PBS (Polarization Beam Splitter) which can be used as high as 15J/cm2 @1064 nm 20 ns and 20Hz laser. The advantages of Dayoptics High Power PBS are:
High Damaged Threshold: ~15J/cm2 @ 1064nm 10ns, 20Hz
Optically Bongding: Epoxy Free
Transmission:> 96% @ Central Wavelength
Extinction Ratio: Better than 30dB
Dimension: from 1mm to 38 mm
Various Wavelength Available
High Cost Performance
Low cost for mass production
The substrate available from BK7, Fused Silica, CaF2, SF5.Brandband PBS is also available 450-650nm, 700-900nm, etc.For more details, please contact our sales directly sales@dayoptics.com.
The price from Dayoptics' optical bonding polarization beam splitter is silimar to nomarl cemented PBS. Thus ask us for quotation.
Glan Laser, Glan Taylor, Glan Thompson made of calcite, a-BBO, YVO4, MgF2, Quartz material; others lenses and prisms are available upone requirement.
Do not hesitate!!! Contact with us immediately. You will get surprised.
---