Product Announcement from DeWAL Industries, Inc.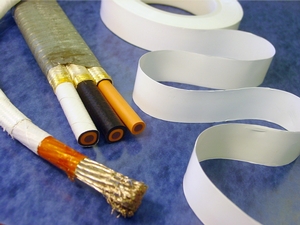 DeWAL D/W 203 Unsintered PTFE (polytetrafluoroethylene) film provides the inherent design features of ordinary sintered PTFE including exceptional chemical resistance, a temperature range of -450 F through +500 F, extremely low coefficient of friction and a non-stick surface, with the added advantages of greater conformability and a superior seal once it is incorporated into an assembly matrix and sintered in place. Used primarily as electrical insulation in wire and cable applications, DeWAL unsintered PTFE is used for cable insulation, harness wrap and as the dielectric medium in coaxial lines. The material is also well suited for use in gaskets, expansion joints, valve seals/seats and diaphragms.
Unsintered PTFE drapes over and fits the most complicated shapes, allowing it to fill the tightest corners and match the sharpest edges. Since this polymer is fibrillated the material possesses excellent tensile strength (2000 PSI nominal - on 2 mil material), concerns regarding line breakage during end-product manufacturing are alleviated. DeWAL provides this exceptional product in tape roll form in thickness ranging from .002 through .020 in. and widths ranging from 0.5 through 11 in. Rolls are set on a standard three and six in. I.D. core and are provided up to 14 in. in overall roll diameter.
New dimensional capabilities are scheduled for implementation in 2005. Unsintered PTFE is available in natural (white) and pigmented. DeWAL also produces conductive for static dissipation and low-density (.4 to 1.6 g/cc) products.
For further information contact DeWAL toll free at (800) 366-8356 or visit the website www.dewal.com.
You have successfully added from to your part list.
---