Product Announcement from Delphi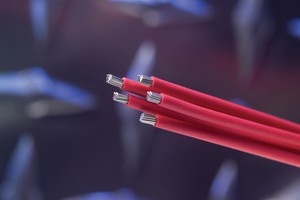 With copper costs continuing to rise, Delphi Automotive is introducing an Aluminum Cable that performs comparably to traditional copper core cable without the added cost. The technology, which is also lighter than copper cable, is now in production and will be introduced on 2012 model year vehicles.
"A vehicle's electrical/electronic (E/E) architecture must support transportation, entertainment, occupant protection and an increasing number of other vehicle systems. Because of its size and complexity, the E/E architecture system also presents a great opportunity for weight and space reduction," said Stefaan Vandevelde, vice president, Delphi Packard E/E Architecture, EMEA, and president, global electrical/electronic distribution systems. "Delphi Aluminum Cable is a simple and smart way for automakers to achieve their goals of saving weight and improving quality while protecting themselves against unforeseen market fluctuations in the price of copper."
Delphi Aluminum Cable delivers the same conductivity as copper core cable but weighs up to 48 percent less. It meets OEM regulatory requirements including ISO-6722 (primary cable focus), LV112-2 (battery cable focus), and USCAR-23 (for cable) and, when incorporated with Delphi Ultra Thin-Wall insulation, provides excellent pinch and abrasion resistance.
"Delphi employs a unique conformal coating sealing process when the cable is still on the cutter. This, coupled with our state-of-the-art crimping process, results in a robust, high-performing cable protected from corrosion," Vandevelde said.
Aluminum cable was widely used in the automotive industry from 1969 to1998. Delphi benefits from a legacy of introducing aluminum solid core cables in 1974 and manufacturing approximately 900 million meters of aluminum cable and 35 million meters of copper-clad aluminum cable, both of which have been proven in a variety of on-road vehicle applications.
You have successfully added from to your part list.

Play Delphi Aluminum Cable Video
---