Storage tanks for chemicals
Product Announcement from Design Tanks, LLC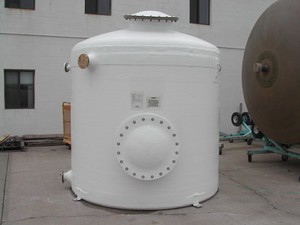 Industries We Serve:
Design Tanks fiberglass reinforced plastic (FRP) tanks are in use in a wide range of industries across the world. The unique characteristics of fiberglass tanks make them an excellent option in a multitude of applications-from agriculture to waste water treatment. These composite tanks provide storage solutions for everything from food to fertilizers.
Sodium Hypochlorite Tank
Design Tanks composite tanks are a cost-effective choice for storage of sodium hypochlorite (bleach). Tanks are cured with a BPO/DMA (Benzoyl peroxide/dimethylaniline) resin catalyst system with a Nexus® synthetic veil to provide a long-lasting corrosive-resistant tank. Design Tanks can build vertical, horizontal, or double-wall sodium hypochlorite tanks in a wide variety of sizes and designs.
Bleach Tank
Design Tanks has the experience and process in place to manufacture bleach tanks that will stand the test of time. We utilize the BPO/DMA resin catalyst system and apply a Nexus® synthetic veil to the fiberglass tank interior.

Ethylene Glycol Tank
Design Tanks ethylene glycol tanks are corrosion-resistant and built to customer specifications in terms of size, shape, orientation, and accessories. As with all of our tanks, the ethylene glycol tank comes with the option of a two-inch thick spray-on polyurethane insulation.

Sodium Chloride Tank
Design Tanks manufactures sodium chloride tanks for the water treatment, and food and beverage markets. Design Tanks can provide a storage solution whether a customer is in need of a stand-alone day's service tank, or a complete brinemaker system.

Acid Tank
The corrosion-resistant qualities of the Design Tanks fiberglass tank make it especially suited to withstand the storage challenges that come with a wide range of acids. Its acid tanks are built to last, providing years of service with a maintenance-free exterior. Select from a wide variety of shapes and sizes to meet your space and design requirements.

Caustic Tank
Design Tanks in-house design and engineering team will work with both its customer and resin suppliers to ensure that you have a properly designed caustic soda or sodium hydroxide tank that meets applicable safety and regulatory requirements.
---