Automatic Screwdriver Systems with Demo Video
Product Announcement from Design Tool, Inc.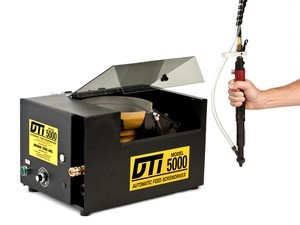 Hand Held Automatic Feed Screwdriver
Design & Service
The Design Tool team has a combined 100 years of experience in the design and manufacturing of automatic screw driving equipment and vast AutoCAD knowledge. Each DTI 5000 is designed specifically to the customer's fastener and application. The DTI 5000 can be designed with pistol grip or straight type air screwdrivers with various rpm's and torque, with reverse capabilities. DTI can also build on any brand of screwdriver.
___
Efficient
The simplicity of the patented feed mechanism makes this screw feeder operate with one moving part. The twist-lock feed cover permits fast access to the feed mechanism allowing it to be disassembled and reassembled in seconds without the use of tools. The automatic timed shut off feature on the DTI 5000 base unit reduces wear on the feeder bowl and makes the unit more efficient. The machine automatically shuts off if unit is not cycled for 7-8 seconds and restarts when the operator drives another screw.
Ease Of Operation
Our unique barrel design allows the DTI 5000 to be much smaller in size and lighter in weight in comparison to other machines. The patented barrel design allows flexibility to position the entrance tube anywhere on the barrel and sleeve assembly. This design enables the DTI 5000 to be used in more applications than other units on the markets today!
Fixtured Components for Machine Builders / Integrators
Integrators and machine builders that face screw feeding as one of their requirements in a project and do not want to handle that portion of the system can turn to DTI for a solution. The DTI Fixtured Automatic Feed Componentry can easily be integrated into your overall system to attack the screw feeding needs involved in the assembly process. DTI Fixtured Automatic Feed Componentry provides a great fit for integrators and machine builders with its screwdriver platens, multi-exit feeder bowls and supply hoppers.
Our patend bowl feeder systems are designed to feed and drive mutiple fasteners from a single hopper with many screwdrivers attached to system.
Our Turnkey systems are simple to operate and are designed for heavy production. Please call us today for a formal quote.
___
___
Click here for the DTI 5000 PDF Document
___
- - - - - - - - - - - - - - - - - - - - - - - - - - - - - - - - - - - - - - - - - - - - - - - - - - - - - - - - - - -
Please contact us for more information:
Email: sales@designtoolinc.com
Toll: (800) 627-3674
Phone: (828) 328-6414
1607 Norfolk Place SW
Conover, NC 28613
You have successfully added from to your part list.

Play Automatic Screwdriver Systems with Demo Video Video
---