Screwdriver Production Equipment
Product Announcement from Design Tool, Inc.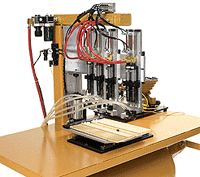 Fixtured Automated multi-spindle Screwfeeding Systems have great value for increasing production immensely. Instead of driving one screw at a time, multiple screws can be driven at once with a push of opti-touch buttons.
Screwdriver platens can be attached to robots with ease and programmed for different hole patterns or to thrusters for down and up motion. Manufacturers have to use automated equipment to be competitive in today's environment here and abroad! So just remember our slogan "Just Add Screws" and our name.
Contact us with your Questions
About Design Tool, Inc.
Design Tool Inc. is a worldwide leader in automatic screwdriving technology. The DTI team has a combined 85 years of experience in the design and manufacturing of automatic assembly equipment. Design Tool Inc. is a North Carolina-based company that provides automatic screwdriving solutions to a wide scope of industries such as automotive, electronics, metal, plastics, telecommunications, wood, and many others. DTI has over 5,000 machines that operate in over 10 countries around the world. Our network includes 50 distributors and reps that sell and service their equipment and ensure the customers' satisfaction.
___

Please contact us for more information:
Email: sales@designtoolinc.com
Toll: (800) 948-1038
Phone: (828) 328-6414
1607 Norfolk Place SW
Conover, NC 28613

Play Screwdriver Production Equipment Video
---