Carbon Fiber Oxidation Oven
Product Announcement from Despatch Industries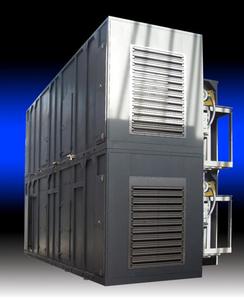 Oxidation is the most critical step in the production of carbon fiber and Despatch provides the world's leading oxidation technology. Since oxidation is an exothermic process, uniform, consistent airflow to uniformly remove heat from all tows across the web is a critical success factor.
Center-to-Ends Airflow
Center-to-ends airflow provides optimal temperature uniformity resulting in consistently oxidized density across the entire tow band. A uniform airflow over the tows allows the process to be operated closer to the "exotherm", increasing the chemical reaction rate. Consistency of process results in no skinning (uncured core) and more uniform densification across the entire tow band. Center-toends airflow provides for up to 30% faster rates of oxidation than conventional cross flow or vertical down flow oven designs.
Air moves parallel to the fibers
With conventional airflow technologies the non-uniform end areas are substantial. By using the Despatch center to ends airflow technology we are able to greatly reduce the non-uniform end areas. This extends the active heated length by up to 25%.
The oven operates at consistently higher temperatures without reaching uncontrolled exotherm.
Consistent process conditions with uniform temperatures in the working zones ensures higher yields of as much as 30% and uniform oxidized density fiber
Center-to-ends airflow design can increase line speeds and fiber throughput, without sacrificing fiber quality.

Scaleability Despatch oxidation oven size can be scaled from 400MM band width up to 4200MM band width and can process 1k to 320k tows with no loss of uniformity. Despatch oxidation ovens consist of zones that can be vertically stacked to reduce floor space requirements. Energy Efficiency Energy efficiency is improved by preheating fresh air and recapturing heat exchange through abatement. New patent pending ACER Technology is an option that reduces energy consumption, controls and balances the air in the process chamber and reduces tar contamination. Patented, automated adjustable end louvers close to significantly reduce heat loss and open for fast and easy threading. The Despatch design eliminates direct process chamber exhaust which significantly improves energy efficiency. With these designs, our customers achieve significant cost savings per kilogram of material output
You have successfully added from to your part list.

Play Carbon Fiber Oxidation Oven Video
---