Composite Curing Ovens
Product Announcement from Despatch Industries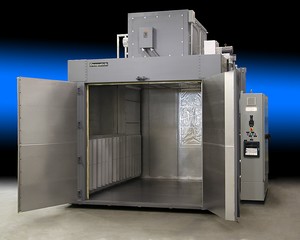 The Despatch S-Series walk-in oven is designed for industrial process versatility, dependability and economical utilization of facility space. These walk-in ovens are typically used for aging, curing, bonding, annealing, drying, baking and heat treating. Despatch's design integrity, manufacturing experience and overall emphasis on quality and innovation ensure your exact requirements will be met. S-Ovens offer customers a variety of beneficial features, including vacuum ports, lift doors, and tight temperature uniformities.
Despatch ovens utilize uniflow airflow which delivers heated air from both sides of the chamber for uniform operating temperatures. The air moves horizontally and vertically through the work chamber to be reheated and recirculated through the system. For parts and molds with unique heat transfer requirements, Despatch can work with you to design an airflow that is best suited to provide the fastest, most uniform heat-up time.
Features at a Glance:
· Flexible and customizable based on the proven Despatch S-Oven design
· Full installation and startup services
· Tight uniformity, standard at +/-5°C with capabilities up to +/-2.5°C
· Electrically heated or gas fired (direct or indirect)
· Custom airflow to optimize heat transfer and cure uniformity for unique product molds
Vacuum Bagging
Despatch offers complete vacuum bagging systems with unlimited vacuum ports. These ports can be added in sets of 8. Jack panels allow you to connect as many thermocouples as needed for monitoring the curing process. Mold preparation, including preheating, drying and cleaning processes can also be provided.
· Jack panels allow 8, 16, 32 or more thermocouples to fully monitor product by connecting through the oven
· Unlimited vacuum ports can be added in sets of 8 for easy connection to the vacuum bag within the oven
· Vacuum port monitoring tools can be added to record pressures if required
· Includes vacuum pump and all required components for complete system
Process Control System
The Focal Point™ process control system is available to fully control and document all aspects of the vacuum bagging and curing process. The system features an advanced recipe editor for programming temperature and vacuum profiles, and for controlling fans and dampers. A PC software package is utilized to record all the necessary information relating to thermocouples, vacuum transducers, temperatures, Hi-limits, user access and all related alarms. The system generates detailed reports of all process information, including batch, oven and part data.
· Process profile control
· Datalogging and reporting
· Programmable recipes
· Four-level password protection
· Maintenance scheduling
You have successfully added from to your part list.

Play Composite Curing Ovens Video
---