Despatch Drop Bottom Solution Heat Treat Furnace
Product Announcement from Despatch Industries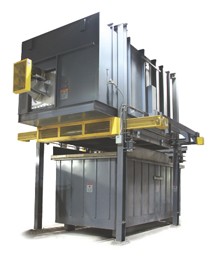 Despatch is a proven supplier of Drop Bottom Solution Heat Treat Furnace Systems with over 180 systems designed, installed and certified worldwide over the past 75 years. The Aerospace, Military and Automotive industries rely on Despatch as a low risk supplier of this type of equipment.
Designed for heat treating large and small batches of aluminum parts, from castings to thin wall aerospace components, the systems usually include a bottom-load furnace with glycol and/or water only quench tanks, water rinse tanks, load cars to hold the work rack, and work racks. Despatch offers chiller systems to cool the quenchant solution for customers processing thin walled aerospace components as well as heated quenchant systems for processing thicker walled items such as castings.
These systems eliminate the material handling aspects related to salt bath type solution heat treat systems and allow companies to solution heat treat thin walled aluminum component parts with a quench cycle that is 7 seconds or less.
Typical designs utilize a connected quench tank, rinse tank and load cars that move together on a rail system beneath the furnace assembly. Crane systems can be provided to transfer the parts racks to and from the load/unload area, load car, quench tanks and rinse tank. A load hoist mounted inside the furnace lifts the parts rack up into the furnace, and then lowers the heated parts into the selected quench tank within seven seconds of the end of the heating cycle.
The glycol quench tank uses a heat exchanger/chiller system to control solution temperature. Hot water quench tanks utilized immersion heaters and heat exchangers to control water temperature at the required elevated temperatures. Quench tanks are designed to provide a uniform, "bottom up" solution circulation system for immediate cooling of treated parts. PAG reclamation/separation systems (poly alkylene glycol) can be provided with any Despatch solution heat treat system.
All systems are PLC controlled for semi-automatic or automatic operation and can be tailored for specific customer needs. All systems include the quality built Despatch Age Ovens and are designed for compliance with AMS 2750 and AMS 2770 requirements.
You have successfully added from to your part list.
---