RAD/RFD1-42 Benchtop Oven
Product Announcement from Despatch Industries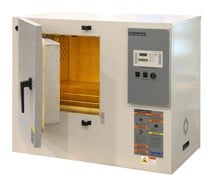 The RAD/RFD1-42 benchtop oven features horizontal recirculating airflow and exceptional temperature uniformity. The result is proven reliability in demanding production and laboratory applications, such as curing, drying, sterilizing, aging, ASTM testing, UL testing and other process-critical applications. This high-performance oven delivers temperatures up to 343ºC (650ºF) and has a 4.2 cu ft (117 liter) capacity perfect for small parts, small lot sizes or tight space considerations.
The RF Class A version of this benchtop oven is specifically designed to meet NFPA 86 requirements for applications that include flammable solvents or large amounts of moisture removal. This Class A oven is complete with a pressure relief panel, purge timer, and exhaust fan. The RFD1-42 Class A oven is a very popular benchtop oven due to it's size and capabilities. With its benchtop design and small footprint, it is ideal for small and R&D Class A applications.
Despatch also offers an RAF/RFF high temperature model. This oven features temperatures of up to 538°C (1000°F). See RAF/RFF High Temperature brochure for complete information.
---