RA and RF Cabinet Ovens
Product Announcement from Despatch - ITW EAE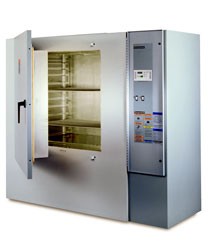 The RA/RF cabinet oven features horizontal recirculating airflow and exceptional temperature uniformity. The result is proven reliability in demanding production and laboratory applications, such as curing, drying, sterilizing, aging, ASTM testing, UL testing and other process-critical applications. The high-performance oven delivers temperatures up to 343ºC (650ºF) and four models from 4.2 to 35 cu ft (117 to 991 liters) to meet your needs.
The RF Class A cabinet oven is specifically designed to meet NFPA 86 requirements for applications that include flammable solvents or large amounts of moisture removal. These Class A ovens are complete with a pressure relief panel, purge timer, and exhaust fan. The RFD1-42 Class A Benchtop Oven is a popular oven due to it's size and capabilities. With its benchtop design and small footprint, it is ideal for small and R&D Class A applications.
Despatch also offers an RAF/RFF high temperature model. This oven features temperatures of up to 538°C (1000°F). See RAF/RFF High Temperature brochure for complete information.
Despatch provides the design integrity, manufacturing experience and emphasis on quality necessary for dependable operation and excellent process control.
Horizontal airflow for ultimate temperature uniformity - RA/RF cabinet oven use horizontal recirculating airflow to ensure uniform temperatures throughout the oven. A high-volume fan circulates air through perforated, stainless steel walls to create a constant horizontal airflow across all sections of the oven.
New controls are easy to use - Improved controls are easy to use for both simple and complex applications. Single and multiple- temperature applications can be started with the push of a button. Multiple temperature operations are controlled by up to eight pro-grams, with eight ramp and soak segments in each program.
Other features include a large, bright LED temperature display, a 32 character LCD status panel, and high-limit temperature protection
Ergonomic - Both controls and chamber are located at heights that reduce bending or standing on ladders. The controls are side mounted at an easy access height.
Easy to service - Electrical and mechanical components are easily accessible for fast and easy service. Virtually all service work can be performed from the front of the oven.
Superior quality - The Despatch RA/RF cabinet oven features a sturdy, welded, double- wall construction, six inches of glass fiber insulation (four inches on the bench-top model), and heavy-duty high temperature gaskets. Each oven receives a thorough quality and performance test before it is shipped. Solid state relays produce precise temperature control for consistent high process results.
---