SD Sterilization and Depyrogenation Oven
Product Announcement from Despatch Industries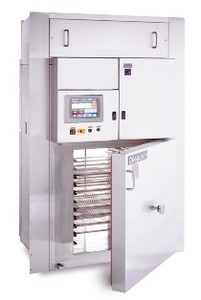 Designed to meet the stringent requirements of the pharmaceutical and medical device industry, these sterilizing and depyrogenation ovens are available in different configurations to meet specific temperature and cycle requirements. The ovens specialize in short cycle times which allow users more production per shift, more efficient operations and lower operating costs.
Exceptionally Short Cycle Time - Cycle times can be as short as 1 1/2 hours when equipped with Ultra Performance Filters and 2 1/2 hours when equipped with High Performance Filters. A unique filter retention system minimizes stress from thermal expansion and contraction to maintain ISO Class 5 conditions throughout the cycle.
A short cycle time results in more production per shift, more efficient operations and lower operating costs.
Designed For Your Application - Three configurations are available to suit your specific temperature and cycle time requirements.
Guaranteed ISO Class 5 Conditions - A unique mounting system for the HEPA filters reduces particulate concentrations. Despatch guarantees ISO Class 5 condition for all oven configurations.
Small Footprint / Large Capacity - Operating Temperatures to 320° Celsius equate to shortened cycle times which result in higher throughput, higher production rates and lower overall cost; allowing you to use a smaller oven for a given level of production. In addition, the internal air supply panels distribute heat very evenly, resulting in dense loading capabilities and a high capacity per square foot of floor space.
Comprehensive Validation Support - Thorough IQ, OQ and SQ validation packages minimize the time and effort required for installation, start-up and validation. Assistance executing the IQ, OQ, and SQ protocols is available as an option.
Touchscreen Controls - Touchscreen controls with an Allen Bradley PLC are powerful, yet easy to use. The system collects data for process validation, monitors operations relative to control limits, and communicates with external data processing equipment.
Flush Exterior - Recessed doors and hinges are completely flush with the exterior surface. All surfaces comply with cGMP guidelines.
You have successfully added from to your part list.
---