Product Announcement from Detcon, Inc.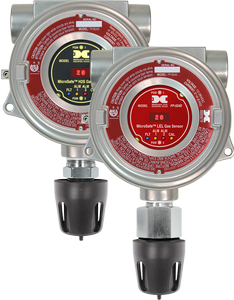 The non-instrusive "Smart" sensors feature embedded intelligence that make operator interface simple and menu-driven with fully scripted instructions. This upgrade features advanced transmitter modules that are backward compatible with all Detcon MicroSafe™ TP (MOS H2S) and FP (catalytic bead) sensors. Detcon's TP-524D/TP-624D H2S sensors detect and monitor Hydrogen Sulfide in air over the range of 0-100 ppm, while the FP-524D/FP-624D catalytic bead monitors combustible gas in air over a range of 0-100% LEL. This MicroSafe™ upgrade also incorporates a surge protection design that includes transorbs on all lines, reverse wire protection diodes, re-settable fuses and Ferrite Beads. The MicroSafe™ assembly consists of the sensor in a stainless steel housing, a plug-in control transmitter circuit, a base connector board, and an explosion proof enclosure. All sensors are equipped with a standard 4-20mA analog output. Other integration options include HART, Alarm Relays, Modbus RTU and SmartWireless.®
You have successfully added from to your part list.
---