Don't get burned by flames you can't see
Product Announcement from Det-Tronics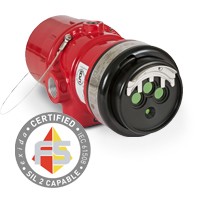 watch>>>Detecting Hydrogen Fires - Learn How in Under 5 Minutes
X3302 Multispectrum Infrared Hydrogen Flame Detector is certified as Safety Integrity Level 2 (SIL 2) capable by exida, a globally-recognized certification agency. Det-Tronics is part of UTC Climate, Controls & Security, a unit of United Technologies Corp. (NYSE:UTX).
The X3302 Hydrogen Flame Detector, with field proven multi-spectrum infrared technology, meets each requirement of IEC 61508 and now with SIL 2 capability can be used in extreme hazard applications that pose a high risk of hydrogen fire, including refineries, chemical loading, battery rooms, compressor areas, and gas plants. Engineers and system designers can incorporate X3302 Hydrogen Flame Detectors into their SIL 2 system design to protect people and property against fire hazards.
"SIL 2 compliance indicates high reliability in extreme hazard environments," said Charles Hoff, product manager, Det-Tronics. "The X3302 Hydrogen Flame Detector is fit for protecting environments that may pose high risk to personnel and where fire may cause a large amount of property damage."
In addition to SIL 2 compliance, Det-Tronics introduced additional sensitivity modes on the X3302 Hydrogen Flame Detector. These sensitivity modes will help optimize the X3302 Hydrogen Flame Detector for specific applications based on fire size and distance to ensure reliable hydrogen flame detection. Contact a local representative to learn more about X3302 Hydrogen Flame Detector and its new features or visit www.det-tronics.com.
Don't get burned by flames you can't see
The X3302 brings state-of-the-art flame detection to the difficult task of detecting invisible hydrogen flames.

With a solid cone of vision for Hydrogen fire detection, coupled with superior false alarm rejection, the X3302 provides protection in applications such as refineries, chemical loading, battery rooms, compressor areas, generators, refrigerants, gas plants.

Other benefits include:
FUNCTIONAL:
FM approved to 3010 for ANSI/NFPA-72-2010 National Fire Alarm Code (EQP version)
Explosion-proof for Class I, Div. 1, Group B, C, D and class II, Div. 2, Groups E, F, G per FM 3615, CSA 22.2
Performance certified to FM 3260: 2000
SIL 2 Capable certification (exida)
Compliance to ATEX/IECEx 60079-31: 2009,
Ex d, Ex d e models available
EN54 verified
IP66/67
FLEXIBLE:
Optional outputs: 0-20 mA, Relays, Modbus
Eagle Quantum Premier (EQP) Safety System Addressable
HART output, AMS Suite integration
DTM software driver
Pulse output for simplified retrofitting of UV systems
Cu-free aluminum or 316 stainless steel construction, metric or imperial threads
Four conduit entries
Multiple sensitivity modes ideal for specific applications and superior false alarm rejection
RELIABLE:
Industry leading cone of vision, 100 ft (30.5 m) on/off axis providing low cost of coverage
Heated optics for maximum performance in adverse environments and reduced maintenance costs
Data logger for event time and date stamping
Automatic Optical Integrity (oi) check for each sensor
5-year warranty
watch>>>World Class Flame Detection
Flame Applications and Products
Detector Electronics' flame detectors are solutions for applications in which risk to personnel is high and where fire might result in a large loss of equipment. Beyond critical life-safety concerns, our products have proven to minimize total cost of ownership while minimizing false alarms.
Our industrial and commercial applications include oil and gas pipelines, turbine enclosures, off-shore platforms, Floating Production Storage and Offloading (FPSO) vessels, automotive-manufacturing facilities, aircraft hangers, nuclear facilities, hydrogen-filling stations, and munition plants.
Bottom line -- no other company offers more flame-detection technologies with wider area coverage, higher false-alarm immunity, reduced response times, and the appropriate global approvals. And to improve ease of use, all X-Series flame detectors have HART-protocol options.
Detector Electronics Corporation (Det-Tronics) is a global leader in industrial hazard safety solutions, providing flame detection, gas detection, and hazard mitigation systems for critical industrial applications. We design, build, test, and commission SIL 2 flame and gas safety systems that range from conventional panels to fault-tolerant, addressable systems. Our flame and gas detectors are globally certified to the latest product approval standards.
You have successfully added from to your part list.
---