Reel-to-Reel Dielectric Coating
Product Announcement from Device Technologies, Inc.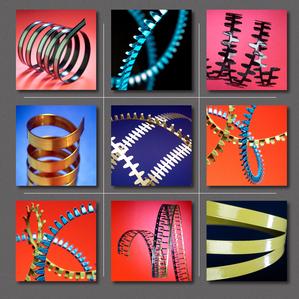 For three decades, Device Technologies has been polymer coating linear (reel-to-reel) substrates for its own Spring-Fast® wire protection grommet edging as well as other strip materials.
Our polymer coating method is a unique, reel-to-reel process. It applies thermoplastic resins such as nylon and polyethylene, or thermoset resins such as polyester and epoxy to linear metallic substrates such as wire, cable, stampings, or steel strip. The coating can be applied to fully encapsulate, or selectively coat part of the surface creating functional and/or decorative finishes.
Process Description
With reeled substrate provided by you by local sources to minimize freight, we mount the product on our linear polymer coating line. The product is de-reeled and proceeds through our proprietary polymer coating and curing zonesto optomize polymer fusing process. The product is then is re-reeled and returned to you.
Functional finishes include end products that require durable surface protection for electrical insulation or corrosion resistance. For example, polymer coating is used to provide electrical insulation on magnet wire used in large transformers. A corrosion resistance example is strip steel that is coated with a nylon powder to prevent corrosion in a salt air environment.
Decorative polymer coating finishes are also durable and can be used to create virtually any color as well as special effects.
What can Linear Polymer Coating Do for You?
Device Technologies' linear polymer materials have the versatility to meet the demands of a broad range of applications. By utilizing our polymer coating technology, you may be able to reduce additional parts such as insulators or other dielectrics, as alternatives to Mylar, Kapton and other similar materials while simplifying designs, assembly and thereby lowering installed costs.
Call us or send us an email about your project. We will need to know:
the size, material and shape of your substrate (wire, cable strip, etc.)
the amount to be coated
expected coating thickness and characteristics
If you are not sure of your specific needs, we can help you determine a coating for your purposes. Put our innovative process to work for you!
Capabilities and Features of Our Service
Specialty electrical insulation and corrosion resistant coatings.
Decorative coatings
Flexible coatings
Depositions from light dusting to heavier builds
Selective coating available
Roll forming and stamping available
Linear Polymer Coating Process
The near-100% transfer efficiency rate of Device Technologies' process delivers a fast and efficient application of a smooth, protective coating to a variety of wire, cable, stampings and metal strip.
---