Seal-Fast™ High Heat Edge & Plate Seals
Product Announcement from Device Technologies, Inc.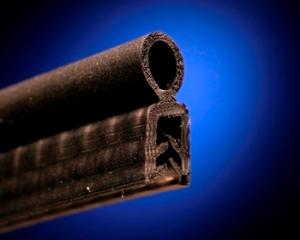 Seal out dust and moisture. Seal in temperature control!
The Seal-Fast D Series Edge Seal is available in a variety of materials, which include a flexible steel or stainless steel substrate, Silicone, EPDM, or PVC gasket and seal assembly allowing for fast and easy assembly. Custom seal options readily available, with or without steel core.
Features and Benefits:
· Excellent grip strength
· Excellent resistance to abrasion, water absorption, and low and high temperatures
· Indoor or outdoor use
· Fast assembly without the use of adhesives, rivets, or screws
· Multi-axis flexibility for small inside and outside radius corners
Applications:
· Automotive
· Railway and Aerospace
· Boating
· Food Service (FDA White)
· Telecommunication
· Construction, Mining and Forestry
· General Industrial
Silicone Series
· FDA approved (White Silicone Material)
· ASTM E 662 (Toxicity)
· ASTM C 542 & ASTM C 1166 (Flame Propagation)
EPDM Series
· FMVSS 302 (Flammability of Interior Materials)
· SAE J1885 (Interior Weatherometer)
· SAE J1960 (Exterior Weatherometer)
· SAE 200 M8BA 708 B13 21-6 (Low Temperature Flexibility)
PVC / EPDM Series
· Greater flexibility for small corner radii
· Smaller Profile
---