Spring-Fast® SL Aero Grommet Edging System
Product Announcement from Device Technologies, Inc.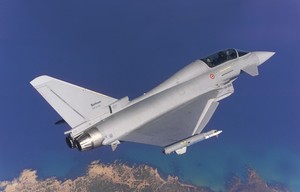 The Tranche 3 Typhoons are to carry Device Technologies, Inc.'s Spring-Fast® SL Series grommet edging, which will be installed around structural openings in the aircraft's fuselage and wings to cushion the contact between electrical wiring and the airframe.
This new-generation protection replaces various older grommets in Nylon that crack and fall off, leaving wires exposed to sharp-edged metal surfaces, or made in Polyolefin that, along with the Nylon grommets require significant assembly time in manufacturing. Spring-Fast grommet edging is designed to simply snap on and is easier to install, reducing production time per aircraft. Performance tests to high levels of vibration, shock, temperature and other ambients support their long term reliability in field conditions. Its simple pressure-fastening concept eliminates the need for adhesives - which minimizes the exposure of production line workers and depot maintenance personnel to hazardous materials and VOCs (volatile organic compounds).
The announcement of Spring-Fast's use on Tranche 3 Eurofighter Typhoons was made today as the result of both EADS, Manching Germany Centre Fuselage Equipping manufacturing team and BAE Standards Engineering, Warton UK final review and approval.
"Spring-Fast® SL Aero Series is perfectly tailored for high-performance aircraft such as the Typhoon, whose wires and cabling are subjected to significant aerodynamic loads throughout its operational life and also with the encapsulated profile offers universal application scenarios," said Device Technologies' President Nicholas Petri. "We are in full production of the SL Aero Series Spring-Fast grommet edging for the Tranche 3 Typhoons, with shipments now underway for the production sites in Europe."
The Spring-Fast grommets are made from spring-loaded stainless steel, which is encapsulated in a protective polymer coating. Spring-Fast quickly snaps into place, using only the pressure applied by the installer's fingers. The product is delivered in reels, with the material cut to length for the specific protective applications in the aircraft's fuselage and wings. While the per aircraft application may be limited to about 30 or so meters, the dynamic performance requirements of the Typhoon and the capabilities of Spring-Fast make this a perfect match.
Spring-Fast originally was developed for the electronics industry, and is fitted on storage and server computers, network switching and router systems, medical scanning, x-ray and dialysis systems, automatic teller machines, and other critical equipment. It is increasingly becoming a standard for the aerospace and defense industries because of the grommet edge's excellent performance, ease of installation and production cost effectiveness compared to old-style nylon and heat activated grommets.
Other aviation applications for Spring-Fast include Boeing's C-17 airlifter and CH-47 Chinook helicopter; the Northrop Grumman E2C Hawkeye tactical airborne warning and control system; Sikorsky's CH-53 Super Stallion helicopter, and the Agusta A109 Power helicopter. Uses of Spring-Fast in the civil aircraft sector range from Gulfstream 650 to the Sukhoi Superjet 100 as well as numerous smaller platforms from Piper and Mooney
Founded in 1984, Device Technologies has been supplying original equipment manufacturers, distributors and contract manufacturers worldwide for over 25 years This ISO 9001-2000 and AS9100B certified company has been providing a full range of specialty wire and electronic protection products including cable management and protection materials, enclosure seals and trim, a full line of EMC management products. More product information is available at www.devicetech.com
---