Trim-Fast™ Edge Trim Grommet Edging
Product Announcement from Device Technologies, Inc.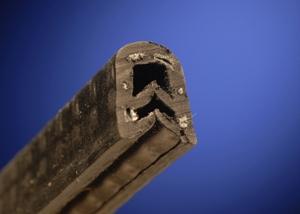 A cleaner, faster and better way to cover sharp sheet metal edges and protect your equipment from failure due to abrasion.
The Trim-Fast Edge Trim is available in a variety of materials,which include a flexible steel or stainless steel substrate covered with High Performance Silicone, EPDM, or PVC allowing for fast and easy assembly. Custom trim solutions also available with or without metal spring core.
Features and Benefits:
Excellent grip strength
Excellent resistance to abrasion
Low and high temperature use
Indoor and outdoor use
Fast assembly without the use of adhesives, rivets or screws
Multi-axis flexibility
Sheet thickness ranges from 0.039 (1.0mm) to 3/4" (19mm)
Applications:
Automotive
Railway and Aerospace
Food Service (FDA White)
Telecommunications
Construction
Marine
General Industrial
Silicone Series
FDA approved (White Silicone Material)
ASTM E 662 (Toxicity)
ASTM C 542 & ASTM C 1166 (Flame Propagation)
EPDM Series
FMVSS 302 (Flammability of Interior Materials)
SAE J1885 (Interior Weatherometer)
SAE J1960 (Exterior Weatherometer)
SAE 200 M8BA 708 B13 21-6 (Low Temperature Flexibility)
PVC Series
Greater flexibility for small corner radii
Smaller profile
---