Wire Abrasion Protection
Product Announcement from Device Technologies, Inc.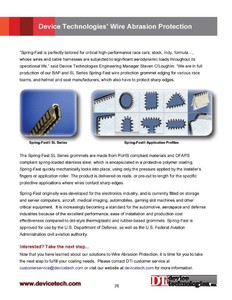 Wire Abrasion Problem & Solution
When wires and cable harnesses exit from sheet metal architecture, they are often routed over and through sheet metal panel edges. Over time, there is potential for abrasion and failure as the wire insulation comes into contact with the sharp metal edges and begins to chafe. The typical industry solution for reducing abrasion is to apply grommet edging to burrs and sharp edges inclose proximity to wires and cables.
The two most common approaches are snap-on and glued-on edging.
"It is critical that design engineers understand the difference between these solutions" says Device Technologies Engineering Manager Steven O'Loughlin.
Traditional adhesive-based (glued-on) grommet edging requires a five-step application process: First, the sharp edge must be cleaned with a solvent. Next, an adhesive must be mixed (in most cases, pre-mixed adhesives cannot be used for this type of application). The adhesive must be applied, followed by the grommet edging, which must be left to cure for up to 24 hours and often fixtured with devices and or tape. Clean up of the adhesives, solvents and removal of fixtures complete the process. Not only is this a lengthy, labor-intensive installation process, but the VOC's generated by the adhesives and solvents require adequate ventilation during and after installation.
---