STD - Spiral Bevel Gearboxes
Product Announcement from DieQua Corporation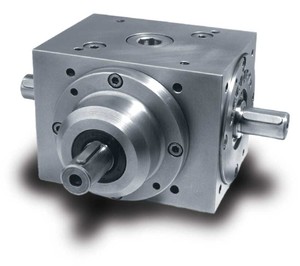 The Tandler series of spiral bevel gearboxes offer low backlash operation with 14 ratios in 8 sizes. They are an excellent choice for applications requiring precise rotary motion, high speed, or heavy duty requirements. A variety of specialty models provide the ultimate in design versatility.
See our new video, highlighting gearbox options.
Features & Benefits:
•Low Backlash - Hardened and lapped matched set gearing provides smooth, reliable, and predictable rotary motion.
•Universal Mounting - Machined housings and tapped holes allowing mounting on all six sides.
•Machined Pilots - Provides alignment for perfect shaft centering.
•Bearing Options - Ball bearing for quiet operation, or tapered bearings for higher radial load and torque capacity.
•Special Designs - Dimension modifications or complete specials are available for maximum design versatility.
Specifications:
•Power capacities from 1 to 300 HP
•11 reducing ratios from 1:1 to 6:1
•4 increasing ratios from 1:1.25 to 1:2
•Standard backlash of 5-6 arc minutes
•Reduced backlash option available
Specialty Models Available: CLICK BELOW
Hollow Shaft Gearboxes - Series HW
Reversing/Declutching Gearboxes - Series S/AS
Reversing/Declutching Gearboxes - Series W
Flange Mount Gearboxes - Series F
Two Way Auxiliary Gearboxes - Series EA
---