FILTER PRESS OVERHEAD BEAM GHS
Product Announcement from Diemme Filtration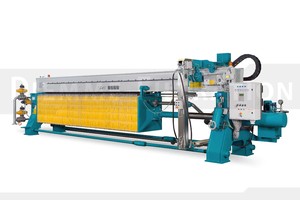 The GHS filter press has a strong and elegant design. Its refined push to close type upper beam structure ensures a better functional reliability in all working conditions making the access to the filter plates much easier. GHS is an automatic filter press where the plates, which are hung from the upper beam, are moved automatically by a rapid shifting device equipped with a carousel system which reduces the filter press opening and closing sequence to the minimum.
Automatic cloth washing system Successful cloth cleaning using a robotic device ensures that optimum filtration rates are maintained.
Protection of the shifting device The plate shifting mechanism, located inside the upper beam, is effectively protected from sludge, dust and corrosive chemicals by a continuous belt of rubber-lined cloth.
Anti-releasing device The unique anti-releasing device prevents the simultaneous and premature plate pack release during the filter press opening and it allows a perfect and sequential cake discharge.
Carousel type plate shifting The carousel plate shifting device assures quick and sequential plate movement by means of an automatic transport system controlled by an inverter.
Laser A laser control system ensures correct plate pack alignment and stops the filter press in case of any anomaly so that any damage can be avoided.
Mobile hoist A mobile hoist is provided to reduce downtime in the rare event of plate removal.
---