Tension Roll Transducer
Product Announcement from Dover Flexo Electronics, Inc.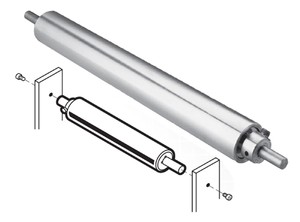 The Tension Roll transducer is a dead-shaft idler roll and precision tension sensors carefully crafted into a single integral unit. No assembly is required by the customer. The Tension Roll transducer measures tension in any continuous web of paper, film, foil, textile or other flat, flexible substrate.
When compared to other direct tension measurement alternatives, the Tension Roll transducer is faster, easier, and less expensive to install than a separate idler roll and transducers on any dual-frame web press or machine.
Since only one transducer cable is needed--at one end of the transducer roll--the need to have a cable crossing between machine frames is eliminated.
Roll diameters range from 2.25 inches (57mm) up to 6 inches (152 mm) standard, and other custom roll diameters to fit your application.
Face widths range from 6 inches up to 120 inches (3050mm). Load ratings from 12 up to 400 pounds (55 to 1800N).
Tension Roll Transducer

Transducers and idler roll in one, easy-to-install unit
Fast, hassle-free installation--like any dead-shaft idler roll
Aluminum, steel or stainless steel rolls in many surface finishes
Now in Three frame sizes plus many custom variations
One electrical cable
Highest overload capacity available made possible by the time-proven through-shaft design.
The Tension Roll Transducer is referred to by some of our customers as the 'Dover Roller', the 'Tension Roller' and sometimes the 'Tension Measurement Roller'. Whatever you choose to call it, this accurate tension-sensing roll is the easiest way for printers and manufacturers to measure web tension on a press or converting machinery.
No assembly is required. Simply specify your desired shaft length, load rating, and roll diameter. We build each unit to order quickly, and reliably with our ISO 9001 certified manufacturing process.
Installing a Tension Roll transducer is also faster, easier and less expensive than installing a separate idler roller with 2 transducers (a.k.a load cells) placed on idler roll shaft ends. Aluminum, steel or stainless steel rolls are available with your choice of surface finish.
You have successfully added from to your part list.
---