Product Announcement from Dow Automotive Systems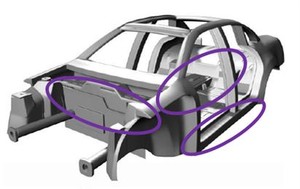 Reducing Vehicle Weight and Enhancing Durability
Providing high performance adhesion to a vast range of materials, BETAMATE™ structural adhesives can help improve vehicle durability and reduce weight while providing cost savings. BETAMATE structural adhesives replace welds and mechanical fasteners, helping reduce fatigue and failure commonly found around spot welds and fasteners.
Benefits:
Contributes to lightweight design flexibility and safety of the whole vehicle
Joins dissimilar and hard-to-weld substrates, including high-strength steel, aluminum and magnesium
Improves durability by reducing fatigue and failure commonly found around spot welds and fasteners
Seals against environmental conditions that cause corrosion
Potential to lower cost by reducing welds and gauge, without losing mechanical properties
Lab- and full-vehicle testing of new-generation crash-resistant structural adhesives show improved crash-resistant performance without any weight increase
Applications:
The ability to join similar and dissimilar substrates makes BETAMATE structural adhesives ideal for use in door, hood, deck lid flanges, engine compartments, cockpits, roof panels, rails and other load-bearing members.
Application Methods:
As a continuous bondline, swirled, sprayed and extruded. Technical Service and Development is offered to assure proper application techniques.
Available Grades
Contact:
For additional information on how Dow Automotive materials can be applied to meet your specific needs please contact us.
You have successfully added from to your part list.
---