BETAMATE™ polyurethane structural adhesives
Product Announcement from Dow Automotive Systems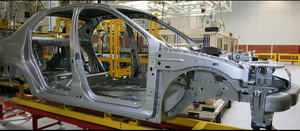 Providing high-performance adhesive to aluminum, steel and other materials, BETAMATE™ polyurethane structural adhesives replace welds and mechanical fasteners, helping improve vehicle durability, reduce weight and reduce manufacturing costs.
Applications
BETAMATE structural adhesives can be used as a glue to replace welds and mechanical fasteners in joining a variety of similar and dissimilar substrates, without degreasing or priming. Their use can help reduce fatigue and failure commonly found around spot welds and fasteners.
Full aluminum vehicle bodies
Aluminum closures
Cast aluminum to profile bonding
Composite body-in-white parts integration
Magnesium suspension struts
Aluminum chassis/powertrain components
Aluminum or composite roof bonding
Bonded seat structures
Application Methods
As a continuous bondline, swirled, sprayed and extruded. Technical Service and Development is offered to assure proper application techniques.
Benefits
Increases car body stiffness for improved handling and acoustic performance
Reduces costs by reducing weld spots, downgauging steel and using mid-steel in place of high-strength steel
Reduces vehicle weight, thereby reducing CO2 emissions
Streamlined assembly process by overcoming weld point access issues
Modulus above 1,000 MPa
Glass transition temperature above 80°C
Impact resistance f(t) from -40°C to 80°C
Adhesion to oily substrates
Wash-off resistance
Contributes to lightweight design flexibility and safety of the entire vehicle
Joins dissimilar and hard-to-weld substrates, including advanced high-strength steel, aluminum and magnesium
Improves chassis and body durability by reducing fatigue and failure commonly found around spot welds and fasteners
Seals against environmental conditions that cause corrosion
Potential to lower cost by reducing welds and gauge, without losing mechanical properties
Lab- and full-vehicle testing of new-generation, crash-resistant structural adhesives shows improved crash-resistant performance without any weight increase
You have successfully added from to your part list.
---